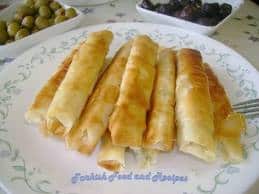 I love anything made with phyllo dough.  I've enjoyed "cigars" at some of the Mediterranean street food vendors like Bistro Truck and the Comme Ci, Comme Ça Truck.  When I was in Washington DC last week, I also had cigars as an appetizer at a Turkish-American  restaurant that were very light and flaky, but were filled with ricotta cheese and herbs, not meat.  You can easily make vegetarian cigars with potatoes, or substitute ground lamb for ground beef if you prefer that.
This recipe is courtesy of the Utne Reader.
Sigara Borek (Turkey)
Meat filling ingredients:
–2 tablespoons olive oil
–1 lb. lean ground beef
–1 onion, chopped
–2 garlic cloves, minced
–4 tablespoons pine nuts
–2 teaspoons ground cinnamon
–3 teaspoons dried oregano
–1/2 cup chopped fresh parsley
–Salt and pepper to taste
Wrapping ingredients:
–1 egg
–1/2 cup olive oil
–2 tablespoons milk
–1 lb phyllo sheets (about 18)
–2 tablespoons sesame seeds
Preparation:
Heat olive oil in a large skillet and add the onion. Cook for 2-3 minutes until onion begins to soften, then add minced garlic and pine nuts. Saute for an additional 1-2 minutes or until pine nuts begin to turn golden.
Add ground beef to the skillet and cook for 3-4 minutes, then add cinnamon, oregano and parsley. Season with salt and pepper, then set aside to cool.
In a small bowl, whisk together the egg, olive oil and milk. This mix will be slightly thick and will be used to moisten the phyllo dough.
Take a sheet of phyllo dough and lay it out on a flat surface with the longest side facing you. Keep the remaining phyllo covered with a moist towel until ready to use. Lightly brush the left half of the phyllo with the egg mixture. Gently lift the right side of the phyllo and fold it over the left side. The phyllo dough will now be half the size of when you started and you will now have the shortest side facing you.
Brush the top of the phyllo with the egg mixture. Take 1/4 cup of the beef mixture (make sure it has cooled) and place it 2 inches in from the nearest edge of the phyllo and leave 2 inches of spaces on either side of the meat. Fold in each of the long sides by 2 inches. Beginning at the edge closest to you, fold the narrow end over the meat mixture. Continue rolling the dough away from you as you form a cigarette-shaped roll. When you near the end, brush the final 2 inches with the egg mixture. Fold the roll over this final bit of dough to seal it. Place seam side down on a baking sheet.
Before baking, brush the tops and sides of each roll with more of the egg mixture. Sprinkle the tops with sesame seeds. Bake at 350 degrees for 20-25 minutes or until golden brown.
Feta cheese, potatoes or other vegetables can be substituted for minced meat.