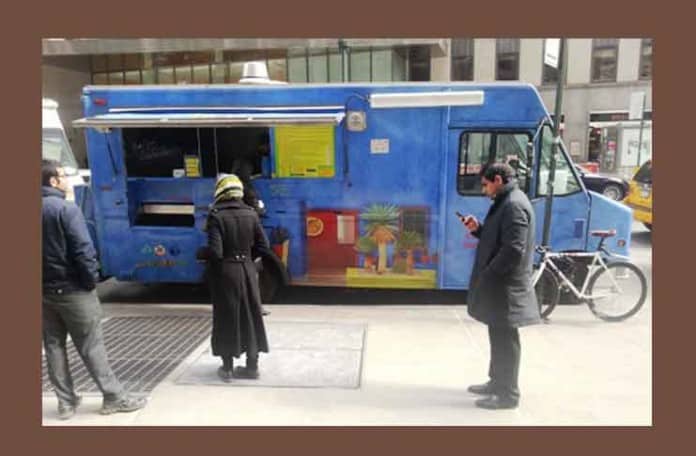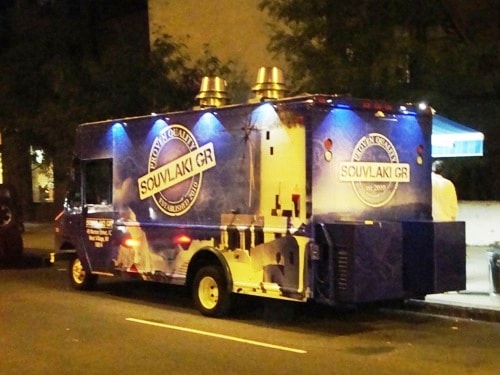 Hope everyone had a nice long weekend.  Back to work today, but at least the weather's nice – and you can enjoy some great New York Street Food from the vendors on the right and the trucks below.
We had to get this out a little early today, so please check the pink Mobile Munchies twitter feed on our homepage before heading out for the latest info.
3 new tweets.
nyccravings – 24th btw Park ave & Madison ave…ready by 11:30!
EddiesPizzaNY – Water and Broad! We r here until 3pm! come try the fire drill (hot cherry peppers, locally grown hot peppers and… http://fb.me/GUzOk6gU
fritesnmeats – Howdy Midtown East! Ready for some post-Labor Day Burger Lovin'? Were on 52nd & Park Ave. Stop by or call in ur order & pick up. 917.2929226
CupcakeStop – CupcakeStop trucks parked on 99th & Madison and 40th & 5th w/red velvet,oreo,vanilla choc,funfetti almond a'more,apple pie a la mode & more!
waffletruck – Happy post-labor day Tuesday! Back on 52nd btw 3rd & Lex. Give us 1 reason you're happy to be back at work, for 1 free dinges. Hah!
1 new tweet.
pizzatrucknyc – 28th and Broadway – thin crust pizza today !
StreetSweets – Look 4 the Special black & white Saks Fifth Av/ St Sweets truck on 49th St btw Madison & 5th Av from 9a – 10:30 then to Park & 53rd St 11-4p
schnitzeltruck – Good morning? Yes it is!:). The schnitz is back. Gonna be on 46th b/w 5th & 6th @ 11:30 slingin schnitzification to the fullest:) c u there!
VLAIC – 5th & 15th till 5:15pm, 5th & 23rd till 6pm, Greene & prince till 7:30pm, Bleecker & Charles till 7pm, Bedford & n. 7th till 12am
quickstopkosher – We all ready today… West 33 and 9 ave B&H. 8-5
joyridetruck – Sorry but Joyride is in for repairs today, a damaged awning. We'll back tomorrow for morning coffee on Hudson b/t King and Charlton.
Hoboken/Jersey City
2 new tweets.
TheKrave – Lunch is served. – Hudson and Harborside http://tumblr.com/xl1hvsy86