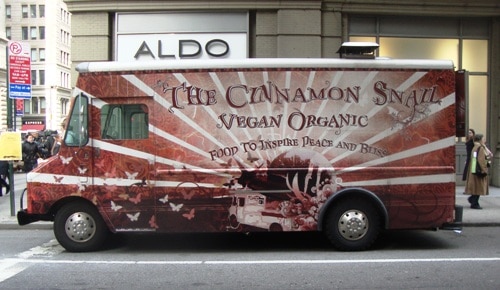 Everyone's favorite vegan food truck, The Cinnamon Snail, is trying to raise funds to serve FREE vegan meals to those affected by Hurricane Sandy.
From their facebook: "Despite the midweek secondary storm we are expecting, we are planning at least two completely FREE meal services to areas without power this week. We will also be setting up a charging station for people's phones and computers.
In order to fund it, (after having been forced to close our business for the past week), we will be setting up a Paypal account so that anyone who wants to support us being able to serve hot organic Cinnamon Snail Vegan food to those in need can donate to the cause. Please send PayPal donations to thecinnamonsnail@gmail.com
We are hoping to do one FREE meal service tomorrow and one on Friday. If there is enough funding we will try to do one on Saturday too.
We are open to suggestions on what neighborhoods needs us most. Be specific about locations that will help us provide the most relief and service. ♥"
Not only can you help get vegan meals to those affected by Sandy, you can even suggest where The Cinnamon Snail vegan should go to do it. Sounds like an offer too good to refuse. Suggestions are being taken on their facebook and twitter accounts.