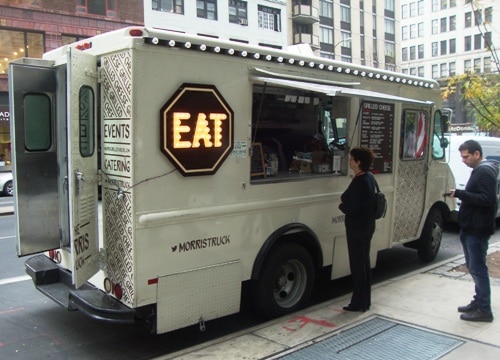 NYSF Note: This article was pre-empted by Hurricane Sandy, but it's still a good read.
We recently heard the Morris Grilled Cheese Truck had several new items on their menu, so it was time to stop by and see what they were. One of the things we like about Morris Grilled Cheese is they like to change up the menu for seasonal items. Another thing we like is they use some pretty interesting ingredients in some of their sandwiches.
Looking at the menu, there were several new items we had not seen before, and whittled it down to two choices: an ale cheddar with roasted broccoli sandwich or a manouri and lamb sausage sandwich. Both were $9, but the lamb sausage put it over the top.
We also ordered a cup of spicy tomato bisque for $2.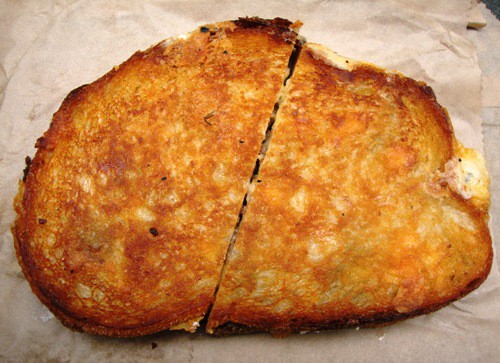 Reversing the usual order of things, we gave the soup time to cool off, and had the sandwich first, before it cooled off.
We were not familiar with manouri cheese, so we opened the sandwich and took out a small piece. It was quite similar to feta, but not as salty.
Putting the sandwich back together, we took a bite. The sandwiches at Morris Grilled Cheese are perfectly grilled and come out crunchy, but not too hard.
The first taste was a tartness, which came from thin slices of watermelon radish. They had a pinkish color, and appeared to be pickled.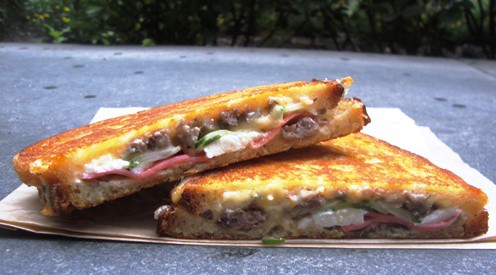 Balancing the tartness was manouri cheese and thin slices of lamb sausage and cucumber. The lamb sausage wasn't too strong, but the meatiness worked well in this sandwich. Lamb and feta are usually a good combination, and the cucumber freshened things up.
After downing this delicious sandwich, we opened the cup of soup. Regular readers of NYSF know that we don't like huge side orders with our main course. A small side order is all that's needed with lunch.
Morris understands this, and gives you the choice of a cup of soup for $2, but if you're really hungry, you can get a bowl for $4. With a nice sized grilled cheese sandwich already under our belt (literally), a small cup of soup was perfect.
Spicy tomato bisque was an apt description. It was creamy like a bisque, but there was no doubt it was tomato soup, and it was spicy. There were red pepper flakes in the soup, although there might have been something else in the soup bringing the heat. It wasn't brutally hot, but was definitely spicy. There were small pieces of minced garlic visible in the soup too.
This was a very enjoyable lunch from the Morris Grilled Cheese Truck. They tend to hit different neighborhoods around town, so the best way to find them is on Twitter here or on our Mobile Munchies Twitter feed.
Even though that ale cheddar and roasted broccoli grilled cheese looked pretty darn good, next time we might be tempted by the gouda, bacon and basil butter grilled cheese. After all, gouda and bacon are two of our favorite things.