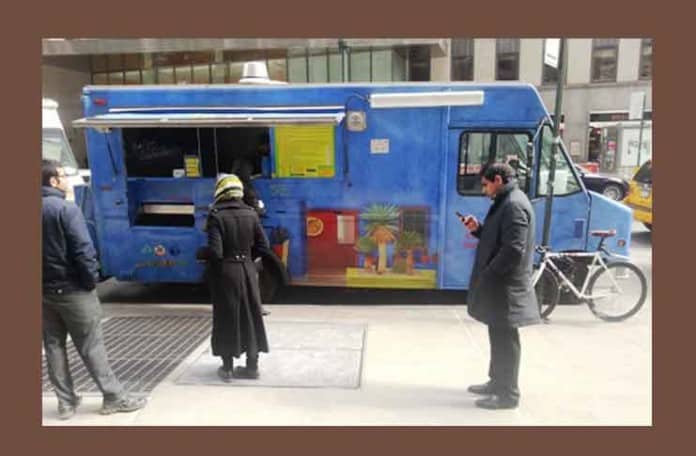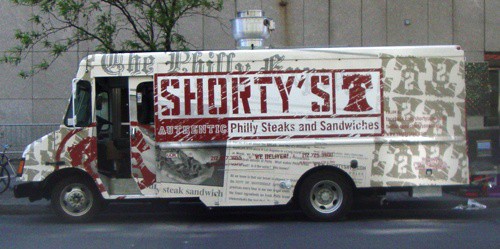 WE ARE ON THE ROAD TODAY AND CANNOT POST ALL DAY, but wanted to let you know about two new food trucks that will be on the street today –  and they couldn't be more different from each other.
On Monday we gave you a NYSF First Look at Shorty's, after their soft opening last weekend.  Cheesesteaks, Italian roast pork, and chicken sandwiches are how they made their name at their two brick-and-mortar locations.  We had a roast pork, broccoli rabe and sharp provolone hero on Saturday that was delicious.
Shorty's told us they will be at 47th & Park today, you can see their menu here, but double-check their location on twitter here in case their plans changed.  To further entice you, anyone who orders a sandwich today can get a free beer at either Shorty's location (as long as you are of legal drinking age).  Talk about an offer you can't refuse.
We also told you about The Squeeze, a new bio-diesel, organic, living foods and beverage truck, which is also hitting the streets today.  CEO and Chef Karliin Brooks has created a healthy, tasty and fun alternative street food option to entice people in the city to give vegan fare a try.  They promise you will not be disappointed.
Each morning, The Squeeze's CEO and Chef Karliin Brooks will stock her re-purposed UPS truck with a complete menu of assorted home-made breakfast items, soups, sandwiches, entrees, snacks, desserts, and beverages prepared with produce that is organic, non-GMO, and purchased local whenever possible.
The Squeeze's cold-press juices are also made fresh daily to ensure they retain their natural enzymes, vitamins, and minerals and optimize the retention and benefits of the micronutrients.  Plant based versions of the Hot Dawg, Rawben Slider, and Moc 'N Cheese take familiar fare and serve them up in a completely new, healthy and tasty way.  And Karliin did not forget about offering up her own version of "junk food!"  The Squeeze has an irresistible list of snack, including the Funyons with Chipotle Aioli, Buckwheat Popcorn, and Tollhouse Nookies, which provide guilt free pleasure with every bite!
Karliin and her crew are giving away complimentary coconut truffles and sweet treats to anyone who orders a juice, shake, smoothie or beverage on their first day.