With 17 inches of snow in Central Park, which is 2 blocks from my office, I stayed near the office for lunch again.  Today's Lunch is a doner kebab from Istanbul Cafe located at 325 West 57th St, between 8th & 9th Ave.
You don't see a lot of Turkish food in New York, although there are a few restaurants.  Istanbul Cafe is a cafe with a very warm, inviting feel to it.  When you step inside, it does not feel like you're in New York any more.  It's all Turkish-style furniture and decor, and in the middle is a large case with lots of desserts and pastries, such as baklava, kadayif and various puddings (coconut, chocolate, rice).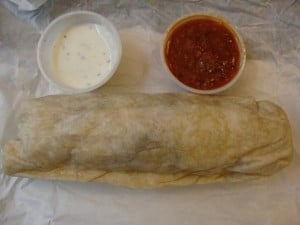 I wanted lunch and ordered the doner kebab wrap for $6.95.  They have several other kebabs (chicken, lamb, etc), kofte (ground lamb and beef), and a bunch of other dishes, which you can also get as platters for $12.95-$14.95, which is out of my price range for lunch, but the wraps were right in my lunch price range.  You can also get appetizers like hummus, falafel, boreks and stuffed grape leaves.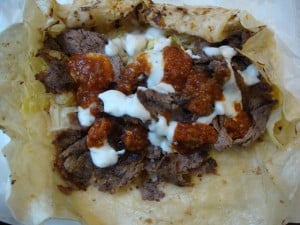 The doner kebab came with white sauce and hot sauce packaged separately.  I opened up the wrap, poured in some white sauce and hot sauce, and re-rolled the wrap.  There was a lot of meat in the wrap, and it was not so easy to close the wrap up again, but I persevered and finally succeeded.  There was also lettuce in the wrap, and tomato if you want, which I didn't.  The meat was nicely spiced, with the lettuce giving the wrap some crunch.  The white sauce was yogurt-based and complemented the meat well.  The hot sauce was actually hot, which added another dimension to the sandwich.
Istanbul Cafe also looks like a really nice place to come for coffee or tea and dessert.  The dessert case looked like you were actually in Turkey.
Today's Lunch was a solid 9 out of 10.  It was definitely street food, but came from a restaurant today because of the weather.