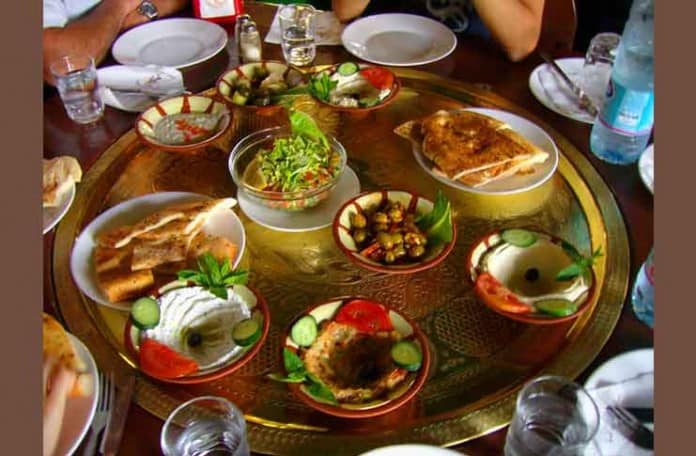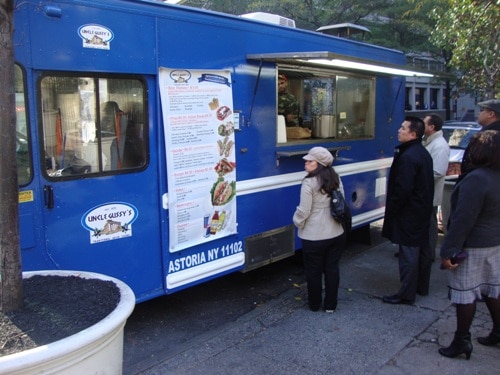 I haven't been to Uncle Gussy's in a few months, but their tweets over the past few months have shown a new eagerness to push the envelope beyond Greek street food.  I don't know if it's because they bought a new truck, or if it was all the press that Souvlaki GR received when they launched, but Uncle Gussy's has really stepped up their game, and now has daily specials with lamb chops, pasticcio and other Greek specialties.
Unfortunately, by the time I took lunch today, they were already out of lamb chops – but Nick made a great suggestion for Today's Lunch – a double souvlaki platter with lemon butter potatoes and a Greek salad ($10).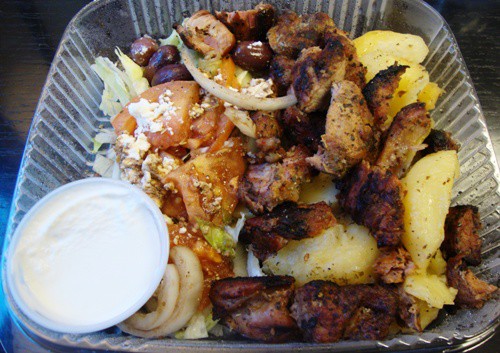 When I got back to the office and opened the container, there was a lot of grilled pork souvlaki, a bunch of roasted potatoes, a Greek salad, and a separate bag of white tzatziki sauce – not to mention a great aroma.
The souvlaki was charred nicely, but it was still tender.   It wasn't dried out, chewy or fatty. Very tasty!
But if you ask me, their secret weapon is the tzatziki sauce.  It's made with a yogurt base (not mayo, like the halal cart white sauces) and has plenty of garlic.  It was creamy and smooth, but had a little bite from the garlic.  Dipping the pork souvlaki into their tzatziki sauce was delicious!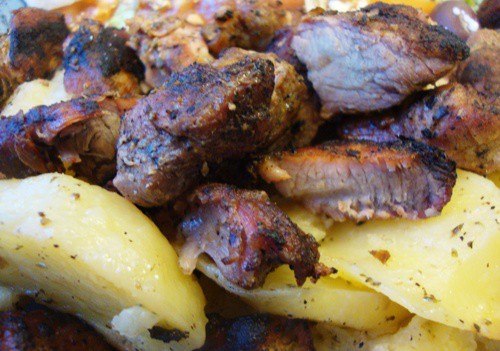 The lemon butter potatoes were excellent too.  The potatoes were spiced with what appeared to be thyme and pepper and roasted.  They had a slightly crisp outside from the roasting, but were soft as butter inside.  Nice job guys!  With my eating street food every day for lunch, roasted potatoes were a nice change of pace from rice all the time.
A classic Greek salad was a pleasant way to finish lunch.  Lettuce, tomato, onions, olives and crumbled feta cheese with an oil and balsamic vinegar dressing.
Today's Lunch was an 8 out of 10.  I probably didn't need double souvlaki – a single would have sufficed with the potatoes and salad – but it was very enjoyable.
I don't usually have lunch early enough to get Uncle Gussy's daily specials, but their regular menu is one of the better street food lunches around.  That could explain why they've been in business since Nick and Frankie's Uncle Gussy started the business 40 years ago – in 1971!