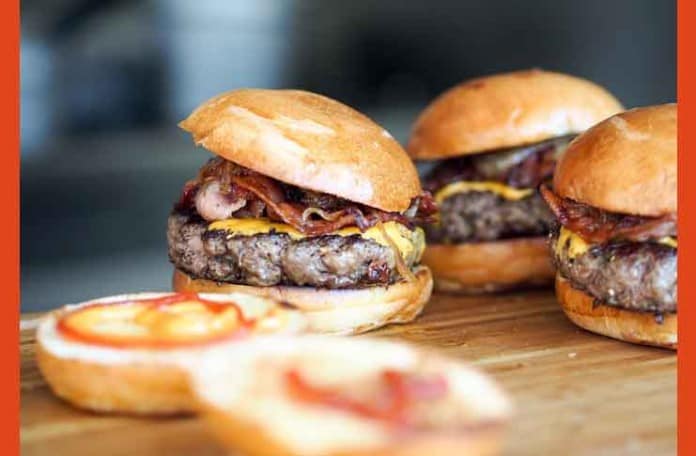 The Frites 'N' Meats truck came up to midtown today (52nd St & 6th Ave) and this being it's first foray into midtown, of course we had to try it. We were there for a while talking to people, and a lot happened in addition to getting and eating lunch.
I arrived around 1:10 and the line was about 25 people long. I asked two people coming down the block with their order how long it took, and they said it was around a half hour, at which point the 3 guys in front of me left. It did take 25 minutes to order, then another 10 until pick up. I expect the lines will be shorter in the future, but this was a new food truck for midtown, and everyone wanted to try it out.
While waiting on line, I had a "moment of zen"; a wholesale beef truck waiting for the light to change just behind the Frites 'N' Meats truck. It was the classic "before and after" scenario.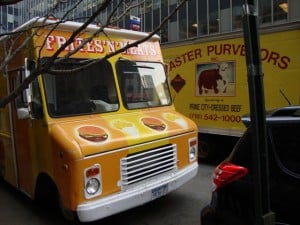 When you near the front of the line, you take an order sheet and fill out your order (type of beef, bun, cheese, toppings and fries). Check out their interesting menu here. One thing we love about Frites 'N' Meats is that everything is locally sourced, with the meat from DeBragga and Spitler, buns from Balthazar Bakery, and cheese from Murray's. We're big believers in locally-sourced food.
When there were about 10 people behind me, someone from the truck came out, took a count, and cut off the line around 7 or 8 people behind me. They were running out of buns and had to stop the line from growing. They said they would be back next Wednesday for everyone who missed out.
As I got closer to the truck, the sign for their Burger of the Week was readable. It was "The Oinker", a seasoned pork patty with bacon, gruyere and spicy red pepper aioli. It sounded awesome, but for the inaugural taste, I had to go with a classic burger.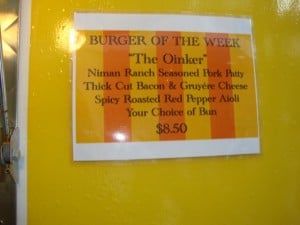 I ordered the grass fed angus burger with cheddar cheese on a sesame seed bun, topped with only ketchup and mustard. I also ordered the double-fried Belgian frites. I've been a New Yorker my whole life, where mustard on a burger is sacrilege, but I acquired a taste for burgers with ketchup and mustard as a teenager visiting my cousin in Atlanta over several summers. I also didn't want to overpower the burger with too many toppings.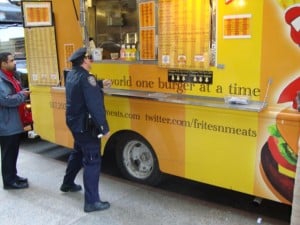 After ordering, I hung around waiting for the food, when all of a sudden, a cop was at the ordering window.  He asked everyone for their permits (which everyone had) and walked around and inside the truck.  This was not a health inspector, but one of New York's Finest.  He said they were not allowed to sell food from a truck parked at a meter on the street.  They could sell food from a sidewalk cart, but not from a truck in the street.
This was news to everyone there, people who regularly buy schnitzel and wafels each week on that very spot.  Nobody could figure out why food trucks were parking there on a regular basis, but Frites 'N' Meats was getting hassled their first day on the spot.  What started out as a day of triumph turned into a mess.  The cop told them to stop taking orders around 1:30, but he didn't realize they had already stopped taking orders.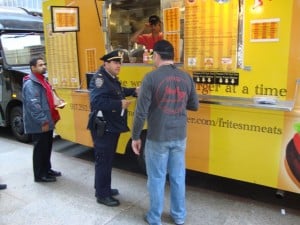 As the cop was walking around, I spoke with Vadim, one of the guys from the truck.  He was frustrated because the day had been going great, they haven't had any police problems downtown, and this place on 52nd St. was a regular food truck spot.   At that point my name was called, so I wished Vadim well and picked up my lunch.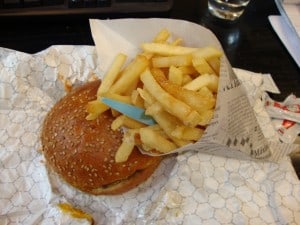 Suffice it to say, the burger and fries were both excellent.  The burger was not enormous, but it was a good size.  It was medium-rare and pink in the middle, with cheddar cheese melted all around it.  The bun was also really tasty, with a very slight honey-like glaze on it.  The best part of the burger was the grilled flavor.  It was reminiscent of summertime, and perfect for this beautiful spring day.
The fries were very good, but not the thin cut usually associated with frites.  Maybe this is how they are served in Belgium, as opposed to France.  The double-fried process gave them a nice outside crunch and a soft center.  They were salted just right, and came in a cone cup with a small fork.
In my opinion, Today's Lunch was a 10 out of 10.   Unfortunately, it did not turn out that way for Frites 'N' Meats.  The cop did not give them a ticket, but said if they came back here, they would get a ticket and be towed.
Not exactly a warm midtown welcome!  I wouldn't be surprised if they stay downtown from now on, but time will tell.  They started out with a permit only valid at Washington Market Park in Tribeca, but recently obtained a permit to sell throughout the city.  Too bad it was ruined by an overzealous cop.