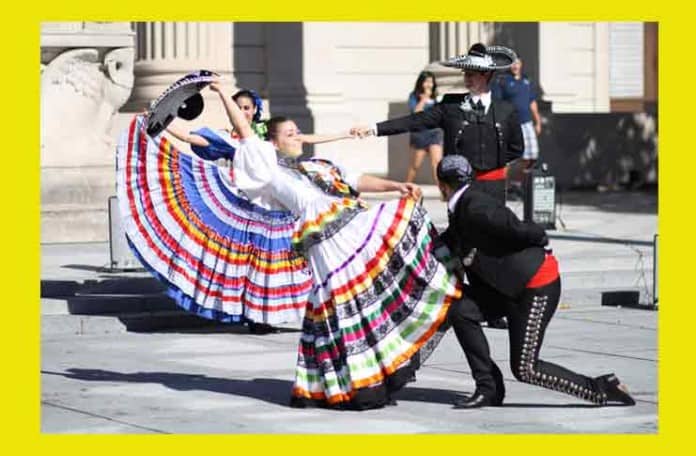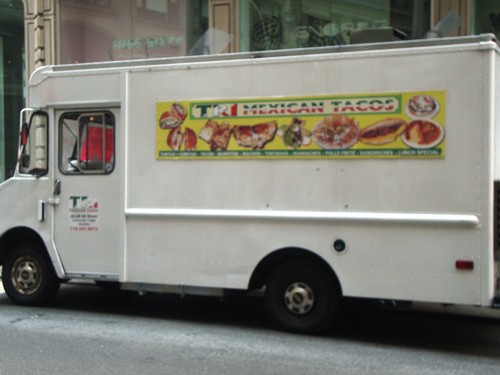 I spotted another new truck walking around the Flatiron District – the Tri Mexican Taco truck parked on the SW corner of 20th St & Park Ave.  They appear to be another Queens truck trying their luck in Manhattan, like El Camioncito (which has been missing recently) and El Guayaquileno.  The guy told me they have been parking here for about a month and it was going pretty well, although the permit below looks like it's only good through October.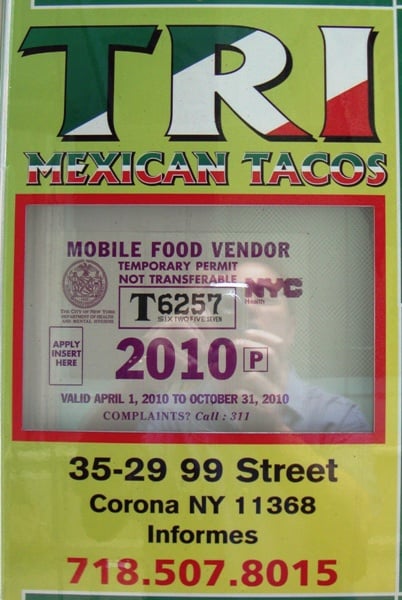 The menu looked pretty extensive.  In addition to the usual tacos, tortas, cemitas, burritos and quesadillas, they also had huaraches, tostadas, nachos, stews, shrimp dishes and hamburgers.
Since it was my first time there, I asked for tacos mixtos – pollo, bistec y chorizo – con salsa picante (mixed chicken, beef and chorizo tacos with hot sauce).  But when I opened the container, lunch wasn't exactly what I had expected.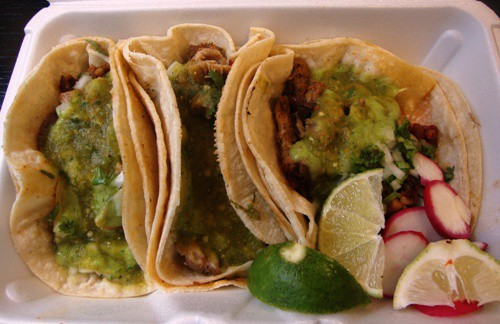 I was expecting three tacos – one each of chicken, pork and chorizo.  I didn't realize mixed tacos meant tacos with all 3 meats in the same taco.  Oh well, if that's the worst mistake I make, things are pretty good.
The tacos had 2 tortillas each, slices of fresh radishes and lime, and were topped with onions, fresh cilantro and green hot sauce.  Looking good!
I squeezed on some fresh lime and radishes and dug in.  What a great first bite – it was spicy, meaty and quite juicy.  With 3 meats in each taco, these tacos were pretty thick.  And the meats were all moist and tender, although the meats were pretty mildly spiced.  But I had 3 big, meaty tacos, and they didn't fall apart or have any funky stuff in there.  Excellente!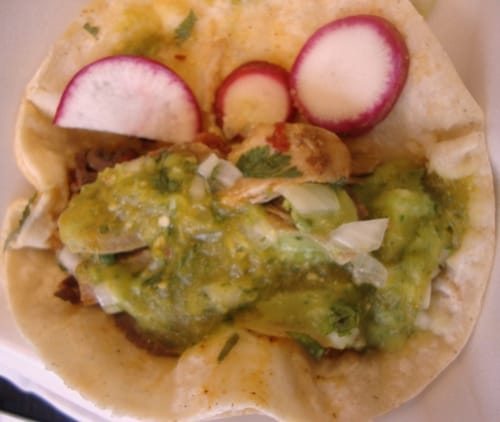 These were good, solid, basic tacos.  The mix of flavors was great – a variety of meats, a generous amount of green hot sauce, fresh onions, cilantro and tortillas. I was one happy camper.
Today's Lunch gets an 8.5 out of 10.  The tacos were fresh, stuffed with meat and tasty.  The tacos cost $2 each or $3 each for mixed tacos.  I ordered 3 tacos, but 2 would have been plenty.  I'm not sure if the single-meat tacos have less meat than mixed tacos, but I definitely over-ate today (not that I minded).  I've had tacos a bunch of times recently and was going to get a sincronizada or burrito, but I'm glad I didn't.
I'll definitely be back to Tri Mexican Tacos for some other dishes, and will add them to the NYSF directory and map.  They are a worthy addition to the New York Street Food scene.