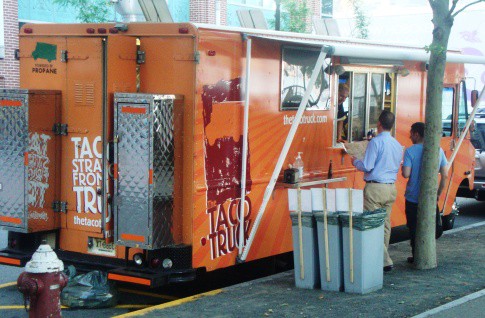 e're back from a family event in Central PA and happy to be home.  Although we love barbecues and beer, now we can get back to the really important stuff – like enjoying some great New York Street Food from the vendors on the right and the trucks below.
However, not everything is rosy in the street food world.  As we mentioned earlier, the Jersey City food trucks are under attack from City Councilman Steve Fulop and have started a Save The Jersey City Food Trucks facebook page.  If you love great street food, please check it out and give them your full support.
Before heading out, make sure to check our pink Mobile Munchies twitter feed to see whether any of the trucks had to move at the last minute.
fritesnmeats – Howdy Midtown Burger Lovers! Were on 48th & 6th today. Give us a shout & avoid waiting in line. 917.292.9226
nyccravings – 24th street between Madison Ave and Park Ave. Ready by 11:30!
Mexicue – Mexicue is on 40th Street between 5th and 6th today. Open at 11:45. Doing our best to minimize wait times but lines have been long.
EddiesPizzaNY – Its tuesday (8/3) and you know what that means. Water and broad! Here we come. Ept will be there until 230pm today w amazing bar pies and our sausage,pepper, onion lunch special. Make sure you call ahead your order 9174397522 and don't forget, no dinner svc tonight so get your fix during lunch!
quickstopkosher – Today we located @B&H. Photo. West 33 and 9 ave
schnitzeltruck – Morning midtown, specifically 46th b/w 5th & 6th. We'll be there @ 11:30 to bring you some delicious schnitz. C u soon:)
GOBurger – Today under FDR at seaport come hang out with us and enjoy a good burger we have lamb,salmon,veggie,blt,turkey and classic burgers
CupcakeStop – CupcakeStop truck outside of Macys Herald Square for Madonna's Material Girl Clothing Line Launch 9am-11am. 2nd truck on Madison and 99th!!
waffletruck – Happy Middtown Eastuesday! We're on 52 btwn 3rd & Lexington til 4:30pm. What's your favorite movie quote? Tell us for 1 free dinges today.
RickshawTruck – HEY NEW YORK! We're @ 52nd & Lex and Greenwich & Murray/Barclay from 11am-3pm today! Come get your dumpling on!
LCBBurgerTruck – The LCB Burger Truck is parked @111 Wall Street today. Come on down for our delicious 100% all natural black angus steakburger!
qbacubankitchen – We landed near wall and front St. We had steam table issue delay us.
joyridetruck – We are heading to Midtown. 52nd and 6th. FiDi we are very sorry to disappoint you. We were down there but could not find any parking. We will try again soon. Apologies!
KELVINSLUSH – The Kelvin slush truck is going to be closed for a couple of days to catch up on some stuff … we'll be back soon
Hoboken/Jersey City
TheKrave – 8/3: Columbus and Marin 5:30 – 9:30 http://tumblr.com/xl1eulpam
TheTacoTruck – Lunch 11:45-2:30 at Sussex & Hudson in JC. Come out and enjoy a Taco Tuesday special!
VeganLunchTruck – We are planning a food truck rally to save the Jersey City food trucks! Join the page to get updates about our… http://fb.me/D8el7ZeU