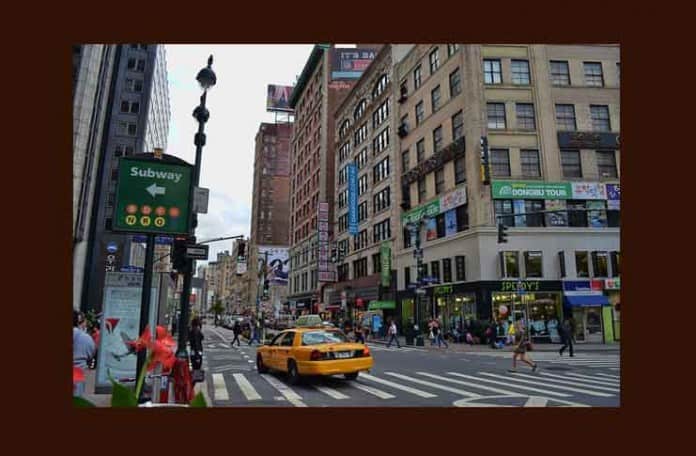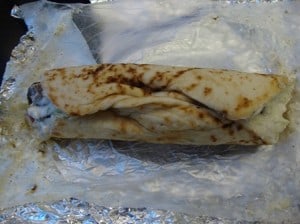 Today's Lunch is the lamb pita sandwich from the Kwik Meal cart on 45th St just west of 6th Ave.  Kwik Meal was a Vendy Award finalist in 2008 and the People's Choice winner in 2007.
The lamb was cubed, tender and spiced with coriander and some other spices.  Very nice.  The sauce was a yogurt sauce like tzaziki (gyro) sauce.  There was also a small amount of lettuce, tomato and red onion on the sandwich.  The pita was good, too.  I asked for hot sauce, but they obviously didn't hear me, because there was none on the sandwich.  It would have been great with some hot sauce.
When eaten together, it was pretty much like a top-notch gyro.  What made it better than other gyros was the lamb, which was actual cubed lamb, not the sliced, processed gyro meat you usually get.  It was nicely spiced and there was a lot of it.
The lamb gyro cost $6.50, which is around what most gyros cost, but this one was significantly better in quality.  I can definitely recommend Today's Lunch.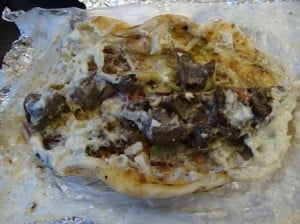 The west corner of 45th St and 6th Ave had around five food carts that looked pretty good, so I'll have to spend more time around there.  In addition to Kwik Meal, there was Kwik Pasta (same owners), which served pasta dishes like shrimp over angel hair pasta.  There were also Sarah's and Fahima, which were both halal food stands.  I haven't tried them yet, so I can't vouch for them, but if anyone has tried them, please leave a comment below.
UPDATE: Fahima's is owned by the brother of Kwik Meal founder Muhammed Rahman, and he tries to park it right next to Kwik Meal.  Talk about taking sibling rivalry to the next level.