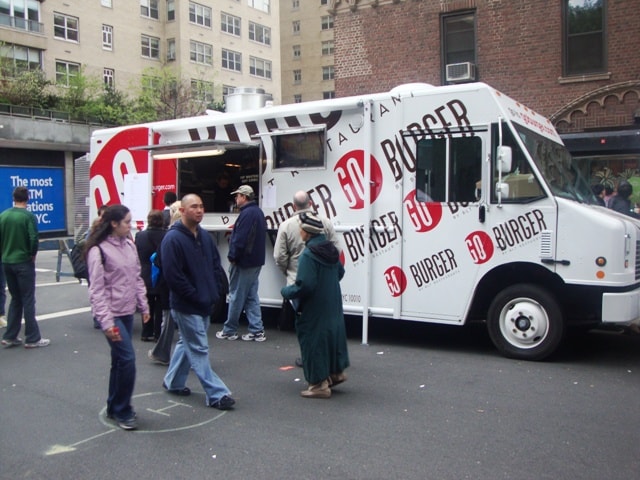 As we told you Friday, the BLT restaurant group has a new food truck called Go Burger that will be making the rounds of the NY street fairs beginning this weekend.  They were on the street one day last week giving out some free samples and getting lots of love from the foodies out there.
With such a top-notch restaurant group getting into the food truck business, I had to stop by the Go Burger truck yesterday at the street fair on University Place to give it a try.  Everyone is talking about their burgers, which makes sense, given their name – but I wanted to give you something different – so I decided to take an alternative route and try their Kobe Dog.
I've always been more of a hot dog than hamburger person anyway.  I love a good burger, but for me, nothing beats a great hot dog or wurst – and the Kobe Dog looked fascinating.   It's made by Snake River Farms from 100% American Kobe beef , but what really caught my eye were the toppings – apple cole slaw, spicy German mustard and pickled jalapenos (!).
When I unwrapped the Kobe Dog, the first things I noticed were the grilled bun (nice touch) and the size of the hot dog.  This wasn't one of those skinny little hot dogs.  This was a large, thick hot dog, comparable in size to the "hot sausages" served by most of the hot dog carts in New York.  It took a bit to close the bun and get my mouth around the entire creation, and I'm a pretty big guy.
The first bite was awesome, and it got even better as I worked my way down the dog.  The hot dog itself had some really nice spices.  I don't usually like to use the word "gourmet" because I think it gets used way too much – and it doesn't really apply to most street food – but this was actually an example of a gourmet hot dog.
I've always been a big cole slaw fan, and the apple cole slaw on the hot dog was a great addition.  It added some crunch and provided a nice counter-balancing flavor to the hot dog.  And the pickled jalapenos were an inspired choice that gave it a little heat.  I spoke with Jason, who runs the Go Burger truck, and he told me he got up at 5am two days ago to pickle the jalapenos himself.  Good job Jason.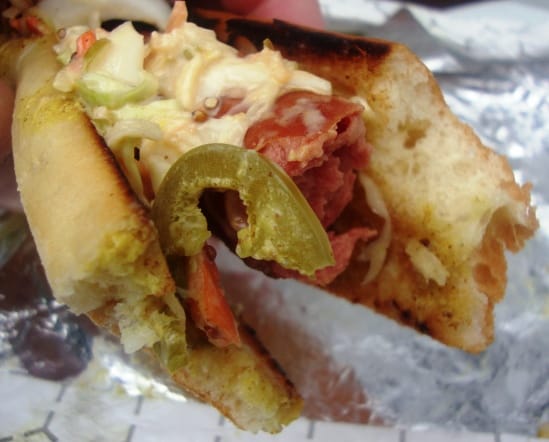 Today's Lunch gets a 9.5 out of 10.  This is one of the best hot dogs around in terms of taste and interesting toppings, but it loses a little on value – $6 is still a bit high for a hot dog.  It was $1 more than their single cheeseburger.
Next time I'll have to try one of their burgers, and the fries looked really good too.  Below are pictures of their menu.  We have added Go Burger to our Mobile Munchies twitter feed so you know where to find them on the weekend.
Finally, a reason for New Yorkers to go to all those street fairs!