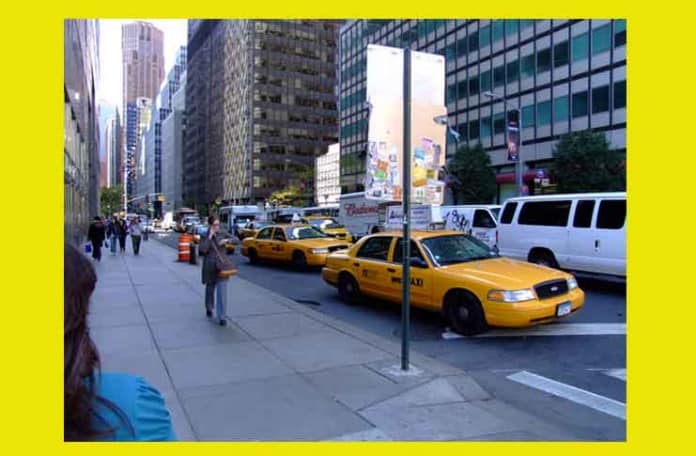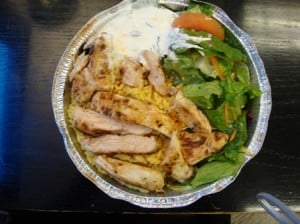 Today's lunch is the grilled chicken breast platter with white sauce and hot sauce from Carnegie John's cart on West 56th St, just east of 7th Ave (behind Carnegie Hall).
What sets Carnegie John's chicken and rice platter apart from most of the food carts out there is that John uses only whole white-meat chicken breasts that he cooks right in front of you.  It isn't that chopped chicken on many of the carts that could be anything.  The chicken breasts have some sort of rub, but John won't divulge his secret.
The chicken had a nice charcoal-grilled flavor.  (He keeps a bag of charcoal by the cart and I've seen him replenish the coals.)  I wish the hot sauce was a little hotter, but it did add some zest.  The white tzaziki sauce was good, with slivers of cucumber in it.  The yellow rice was plump and well done, but not overcooked.  I personally like my rice a little less cooked, but it was not overcooked.   The salad was nice, with radicchio, lettuce, cucumber, tomato and julienned carrots.  The dressing was a fairly basic Italian, but was nice after the meal.
John learned the business from Tony "The Dragon" Dragonas and has been in business for himself for 9 years.  He has a loyal following, with the chicken platter being the most popular dish, although many people also love his hamburgers, which I tried earlier this month.  I'm also looking forward to trying the steak sandwich.
At $6, a very good choice for Today's Lunch.