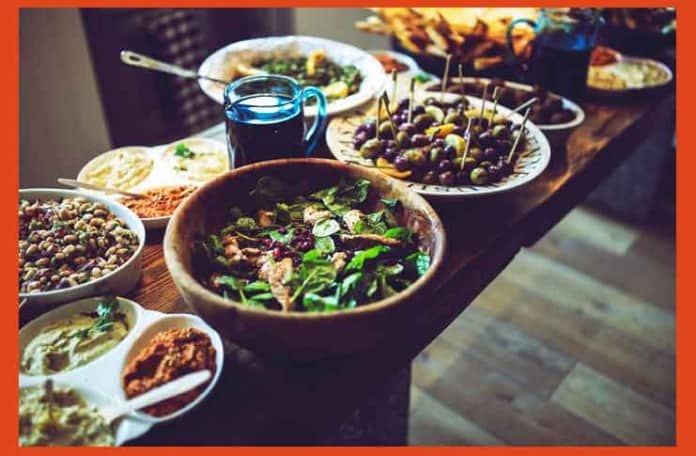 I ran across a new food truck on Friday, the NYC Pizza Truck.  It was located on Broadway between 28th & 29th St with a big sign on the windshield saying "Slice of Pizza $1".
I spoke with the owner, Adam, who asked if we could give him a week or so before reviewing the pizza while they "hammer out the kinks".
You can't keep $1 slice pizza a secret for long in this city. If we don't review it, someone else will, so we're going ahead with our review.  Just keep in mind they have only been on the street for a week.  Click through for Today's Lunch.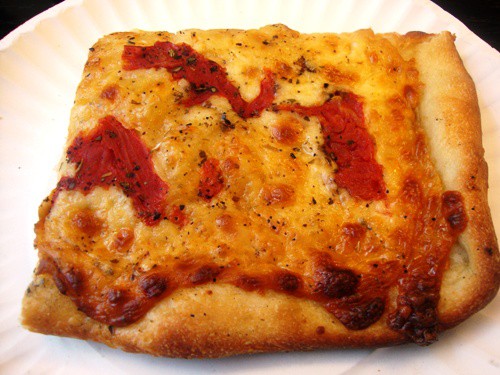 According to their website, the NYC Pizza Truck is affiliated with Maffei's on 6th Ave & 22nd St, which gets 4 out of 5 stars on Yelp based on 68 reviews.  I can't recall ever going to Maffei's, but it doesn't really matter because this article is about the truck anyway.
Since the truck was new and still working out the kinks, they only had "Grandma" slices, which were made with fresh mozzarella cheese, tomatoes and oregano.  Some of the Maffei's reviewers on Yelp really liked their buffalo chicken pizza.  Here's hoping that will be on the truck soon.
The Grandma slices were square like Sicilian, but not quite as thick.  The cheese was well done and had a very nice taste.  It was slightly salty like fresh mozzarella should be.
There was no tomato sauce – just some pieces of tomato.  Personally, I'm very happy with pizza like this – mostly cheese and crust with a little tomato and oregano.
Now for the crust.  It was firm on the bottom, softer under the cheese, and crunchy on the edges.  I was definitely happy with the crust.  Since I got a corner piece, there was a lot of crust to enjoy.
Today's Lunch was an 8 out of 10, but we have to add half a point for value ($2 for lunch!), so the NYC Pizza Truck ends up with an 8.5 out of 10.  Can't wait until they "hammer out the kinks".
We've already provided a link to their website above, and here's a link to their twitter account.  Buon Appetit!