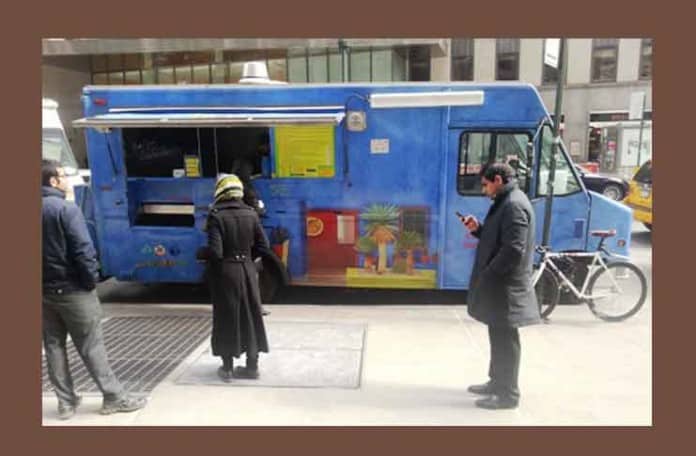 It's another nice day outside, not nearly as humid as yesterday.  Perfect for enjoying some great street food from the vendors on the right and the trucks below.
Congratulations to The Taco Truck on the opening of their new restaurant at 62 Newark St in Hoboken (only 2 blocks from the PATH train).  Here's a short video of their Grand Opening on Friday.  http://fb.me/CFSQ95fQ.  Their truck is in the shop today, but the restaurant is open.

As always, check the pink Mobile Munchies twitter feed on our homepage before heading out, in case a truck had to move at the last minute.
CupcakeStop – Truck on 52nd & Lexington,Truck on Madison & 99th Street and shoppe inside the Limelight Marketplace on 6th and 20th,1st fl. Red Velvet,Funfetti,Nutella,Oreo Crumb,Van Choc,Choc PB Swirl,Toffee Crunch,Van Latte, Peanut Butter Brownie,Choc Oreo and Coconut Cream!
fritesnmeats – Howdy Battery Park! Were on Murray b/w N.End Ave & West St. Its been 2 weeks since weve seen you. Hope you havent forgotten us. 917.292.9226
schnitzeltruck – Eyyyy water and broad. You guys ready for some schnitz? Yeah you are? Mmm delicious schnitz! Will try to have prosciutto balls for ya:)11:30
EddiesPizzaNY – today (mon 7/12) we are on 26th between 11th and 12th ave from 11am until 2:30pm then off to 3rd ave between 30th… http://fb.me/sVPxHEEo . Come get a 270 calorie bar pie or a chicken parm pizza which is our weekly special.
GOBurger – We're. Back at seaport under fd today's specials veggie burger, Blt burger,chili cheese fries yummy
StreetSweets – Gd morning Street Sweets will b on 46th St & 6th Av from 8a – 4p. Stop by for a sweet Mon. pick me up, as always we look forward 2 seeing u.
waffletruckDumbo Monday! We're on Front & Washington til 4:30pm. What's the best pizza in Brooklyn? Tell us for 1 free dinges today.
LCBBurgerTruck – The La Cense Beef Burger Truck is parked at 75 Wall Street today. Come on down and bring a friend!
nyccravings – 48th btw 6th and 7th! Ready!!!!
1 new tweet.
CalexicoCart – Sorry guys, the cart on Broome is closed. However, we are cooking it up on Wooster St and at pier 1 at the Brooklyn Bridge Park!
biggayicecream – Hi folks! I won't be at Union Square until the evening- I'm doing a catering gig in the afternoon. Catch ya tonight- 6ish.
Hoboken/Jersey City
TheKrave – 7/12 – Dinner at Columbus and Marin 530-930 http://tumblr.com/xl1d9hmpj
laspicetruck – hudson& york 11:45-2:30, pulled pork sw, tex-mex chix sw, angus eggplant and portobello sw. dessert guanaja and praline C u soon
TheTacoTruck – The truck's in the shop, so we won't be serving lunch or dinner today. You can still get declious tacos at our… http://fb.me/wO2ZnTqO .