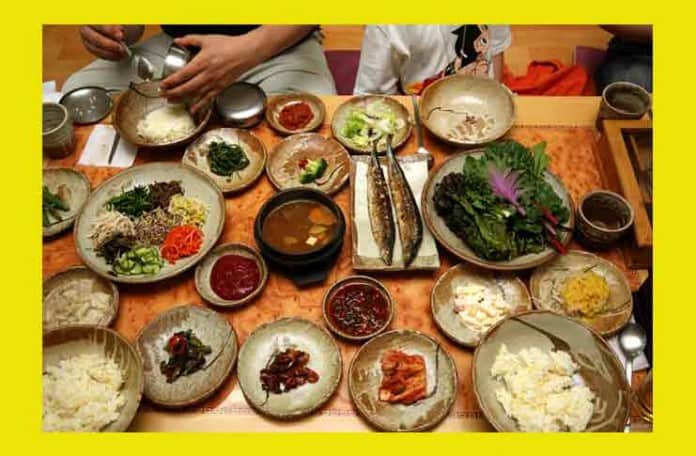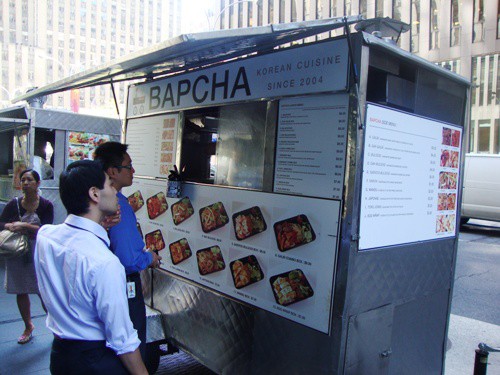 Yesterday's free slider from the Korean Mobile Kitchen got me thinking about galbi, Korean BBQ short ribs.  You normally wouldn't expect to get galbi on the street – but this is New York, and we have an amazing selection of street food here.
In fact, Bapcha on 49th st between 6th & 7th Ave has galbi, dak galbi, bulgogi, saewoo and other Korean dishes.
Today's Lunch is a #6 combo, which includes your choice of 2 meats for $9.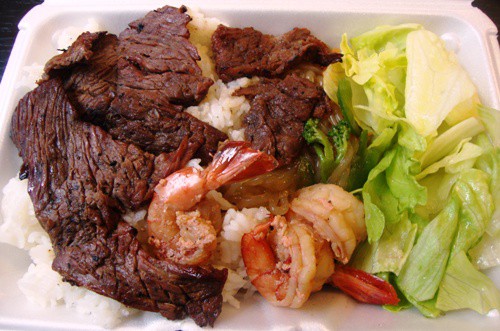 I chose galbi (bbq short ribs) and saewoo (shrimp) for the combination.  The lunch combo is served over rice, and there is a small portion of lettuce on the side, as well as a serving of cellophane noodles underneath the meats.
The galbi tasted like it was marinated in soy sauce and rice wine, and it was grilled over a flame until it was a little charred, but the inside was still cooked to medium.  You could see where they scored the meat with a knife, so the marinade seeped deeper into the meat.  The galbi was quite tasty.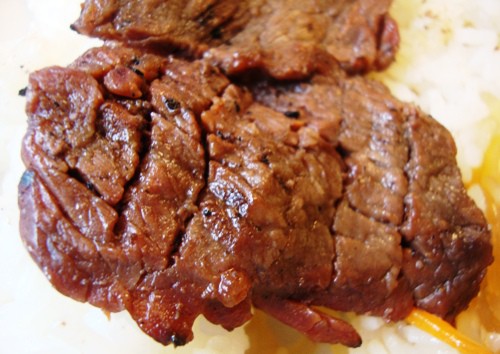 There were 3 shrimp in the combo meal, and they were medium-sized shrimp that seemed to be marinated in a rice wine and some other ingredients and grilled.  The shrimp were very yum too.
Underneath the meats was white rice, but the secret weapon here was the cellophane noodle salad.
You can't see it until you move some of the food, but there is a warm cellophane noodle salad with a few veggies under the meat.  There is a nice, light sauce on it, and it was the perfect accompaniment to the galbi and saewoo.
Today's Lunch at Bapcha was very good.  It was emblematic of the "melting pot" aspect of New York Street Food.  We have excellent street food from Korea, Jamaica, India, Morocco, Mexico, Greece and many other countries right here on the streets of New York.
That's why the New York Street Food Walking Tour will be so interesting.  We still have some slots available, so check it out.