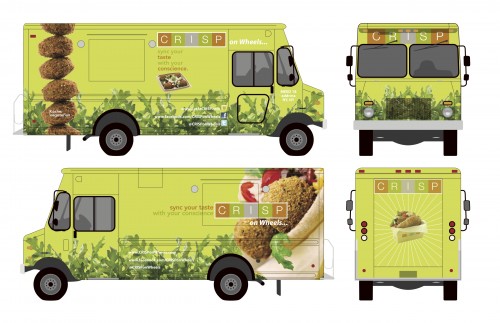 Correction – Crisp is not out until next Thurs, April 28th.
There's another new truck out for lunch this beautiful day – Crisp On Wheels.  It's the mobile version of the falafel restaurant that has 2 locations in midtown and one downtown.  If you want to learn more about Crisp, their website is here, twitter is here, and facebook is here.
There are plenty of other great trucks out there too. Yesterday, Columbus Circle got a lot of action. Today, it's Park Ave from the mid-20's to mid-30's.
Feed Your Hole was going to try a new spot today, but that didn't work out, so they are at their regular spot on Park Ave & 30th St (with a few syc fcks).  Big D's Grub is a few blocks north, and the Korean Mobile Kitchen (with free sliders) is a few blocks south.
As always, check the Mobile Munchies twitter feed before heading out, in case anyone had to move at the last minute.
CrispOnWheels
As promised our big news. Despite a delay, we'll officially be opening on Thursday April 28th for lunch. Stay tuned for our 1st location.
TasteofKoreaNYC
LOCATION UPDATE: Today, the Mobile Kitchen will be stationed on Park Avenue between 25th and 26th St. Hope to see you there!
bigdsgrub
4/21 (Thurs) G'morning beautiful people! We are on 33rd and Park from 11:30 to 3pm~!
BistroTruck
Good day NYC. Specials: Fish & Chips; Mix Grill ( lamb, Chicken, merguez& steak over basmati rice & salad); Dessert: Creme caramel
biandangnyc
53rd btwn Park and Lexington: ready by 11:20! Grass Jelly is back by popular demand! http://fb.me/EmEWX5O0
joyridetruck
If you haven't tried our new @
DannyMacaroons
yet, today you really must. We only have German choc. & choc dipped left. 52nd&Lex
waffletruck Thursday Waffle Party! Truck on 46 btw 5/6th ave till 4:28. Waffle CArts! Goesting on 40th btw 7/8 till 4:30, Vedette on 60 at 5th ave till 6, Bierbeek:Whitehall btw water and pearl till 8. Bring us a wafel & dinges virgin and you both get a free dinges! TA DAHHHH
Chefsamirtruck is on 38th St @ Broadway today! Soupe du jour: Split Pea Soup $3; Crème Brûlée; Moroccan Mint Iced Tea & Mango Iced Tea!
KorillaBBQ Good morning ppl! 55th & Lex here we come! Ready by 11