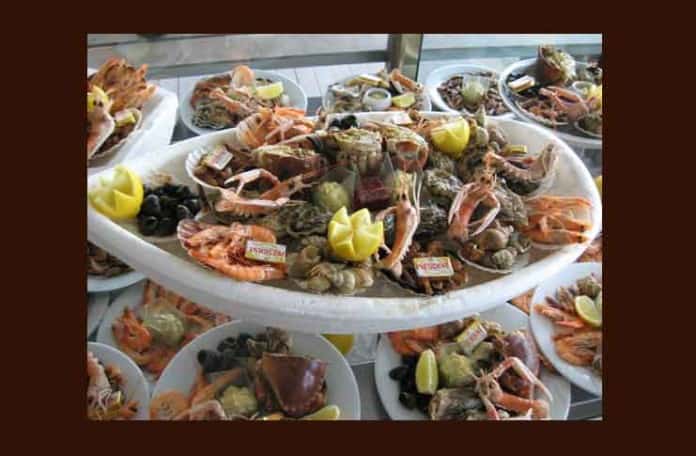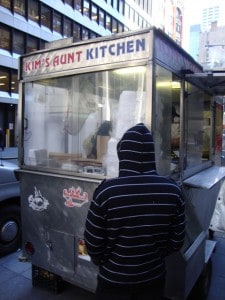 Today's Lunch is a combo platter from the Kim's Aunt Kitchen food cart on the south side of West 46th St, just east of 6th Ave (bet 6th & 5th Aves).  One side of the cart said Kim's Aunt Kitchen and the other side of the cart had a big sign that said Food Is Love, which it also said on the menu board.  We couldn't agree more!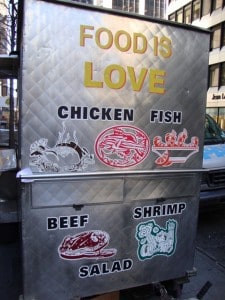 The combo platter gives you the choice of any 2 offerings, which include grilled chicken, beef bulgogi, whiting, flounder and shrimp – plus rice, fries or lo mein, and a salad.  Pretty good meal for $7.50.  I chose the shrimp and flounder, with tartar sauce and hot sauce, and there was plenty of both – 5 pieces of shrimp and 2 pieces of flounder.  The shrimp was heavily breaded, but decent-sized.  If you get the shrimp (only) platter, it comes with 8 pieces for $6.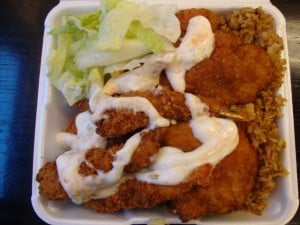 The flounder had a lighter breading than the shrimp, and was the better choice in my opinion.  The fried flounder sandwich was only $4.50, which is an excellent choice for future reference.
The rice was good, and there was a lot of it.  It was more like an Asian fried rice (without extra ingredients) than the Middle Eastern rice served on the halal carts.  There was way more rice than I could finish.  The salad was plain lettuce (I asked for no tomato), and since I didn't ask for a dressing, they didn't put one on.  That was my mistake, but after the fried fish and rice, plain lettuce was fine.
Today's Lunch was very good.  I'll be returning to Kim's Aunt Kitchen, and next time I want to try the bulgogi or grilled chicken, which both looked really good when I was waiting for the fish.