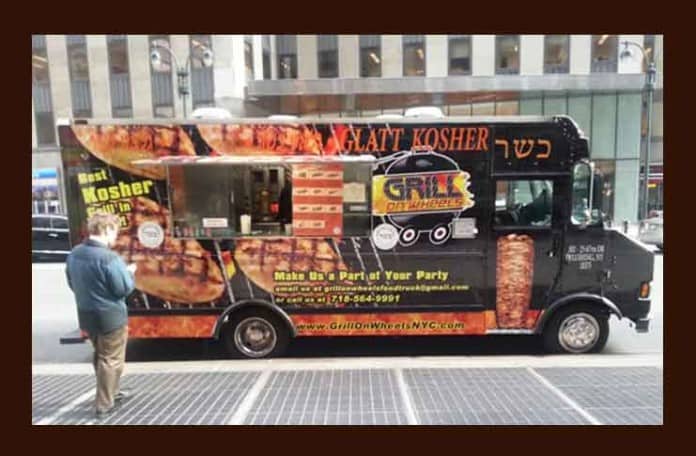 Another sunny winter day in New York City, but it looks like the calm before the storm.  They are predicting anywhere from 8″-12′ of snow starting around midnight tonight into tomorrow morning.  Enjoy these food trucks today, because they likely won't be around tomorrow.
schnitzeltruck – Sup wall St guys.. Come get your schnitz before the big storm tomorrow. We're @ water & broad @ 11:30.: c u soon.. Preorders in effect
CupcakeStop – 5th and 23rd w/ Red Velvet, S'mores, Vanilla Vanilla, Almond Amore and Coconut Cream! We're still taking Valentines Day PreOrders
waffletruck – Happy Tuesday! We're back at Hudson btwn King & Houston til 4:30pm. Hooray! Order as your favorite Simpson's character for 1 free dinges.
VLAIC – Kangaroo at 5th &15th all day. Fresh pastries, espresso, tea, ice cream before a snow storm anyone?
VLAIC – Panda bear on 6th and 22nd til 10 then 23rd and 5th until 4pm. Coconut pear muffins and enough espresso to make you shake all week
StreetSweets – St Sw will b on 50th St just west of 6th (btw 6 & 7Av) Av from 8:15a until 5p. Due 2 the impending snow storm, St Sw will not b out tomorrow
ELDiabloTacos – 2 TACOS $5, 2 PRBS $5 + A FREE SHOW! http://bit.ly/9YwMAx
RickshawTruck – Hey midtown east. Its tues so we are waiting for parking at 52nd and lex…We have a parking spot! we will be open from 1130 till 3. See you soon!
CalexicoCart – Both carts are out and bringing the heat. Come and get it!
BistroTruck – Specials of the day: http://yfrog.com/4fd0icj
TheTreatsTruck – We're on 38th and 5th ave from 11:30 – 3:30 pm then on 5th ave btw 14 & 16 st from 4 – 5:30. Sparkly Valentines Day sugar hearts await you!
nyccravings – 24th btw park and madison…ready in 15 minutes!
New Jersey Food Trucks
laspicetruck – white coffee ganache, biscuit, coffee creme chantilly. come get it for the big storm tomorrow. hudson and york 11:30.
TheTacoTruck – JC for lunch today at Hudson and Sussex from 11:30-2:30. Call ahead 201.577.4214. http://fb.me/5QEnXkZ
thekrave
Location 2: Hudson and Harborside Pl, 11:45-2:15 http://tumblr.com/xl16abq7z
thekrave
Location 1: Hudson and Essex, Inside Liberty Towers Gourmet, 11:45-2:30 http://tumblr.com/xl16abpjd
As always, check the pink Mobile Munchies twitter feed on our homepage for the most recent updates.  You never know when someone will have to move their truck on short notice.