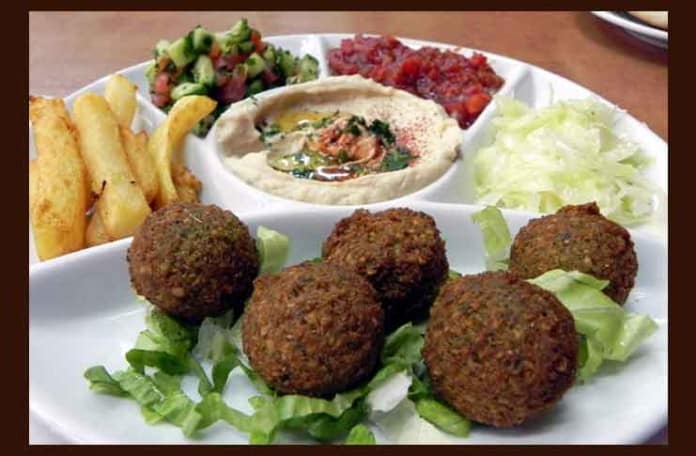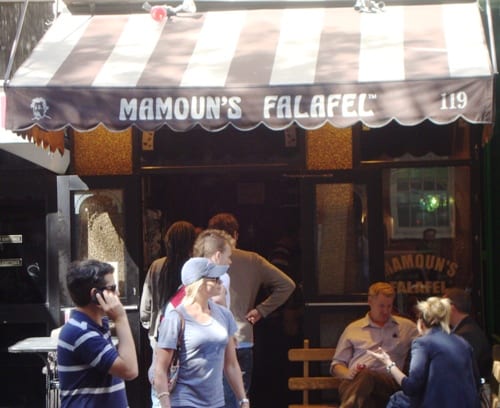 I had to be in Greenwich Village around lunch today, so I stopped into Mamoun's Falafel at 119 MacDougal St between West 3rd St & Minetta Lane.
Mamoun's is a Village institution, first opening in 1971 and subsequently opening branches at 22 St. Marks Place in the East Village and in New Haven, CT.  With a perpetual line out the door, cheap street food, and only a couple of booths and outdoor tables, they are perfect for our Honorary Street Food category.
Today's Lunch is a falafel & hummus combo sandwich for $3!
Mamoun's has been family owned and operated since the beginning, and everything they serve is made from scratch using their own recipes.  A falafel sandwich is $2.50, but you can add another veggie filling for just $.50, so I added hummus.
The pita was pretty full and heavy from the falafel, lettuce and hummus (I asked for no tomato).  They didn't skimp on the ingredients.  The falafel was fried on the outside and moist, green and flavorful on the inside.  I can't pick apart exactly which spices were included, but there were a bunch, and they were pretty good. There was a small kick to it as well, although I forgot to ask for hot sauce.  Have to remember the hot sauce next time.
The hummus was thick and creamy – almost a little too overpowering for the falafel.  When I tasted the falafel by itself, there were a lot more flavors going on than when I took a bite that included hummus.  I would suggest getting either the falafel or hummus, but not in the same sandwich.
Today's Lunch gets an 8 out of 10, with a 7.5 for the food and another half point for the value.  A filling lunch for $3!  No wonder the line seemed like an extension of the NYU campus.