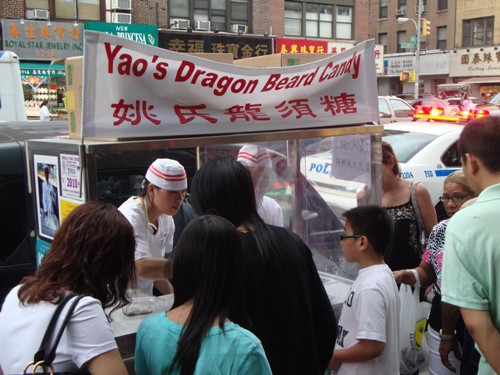 Yes, it's another amazing day outside.  Perfect for enjoying some great New York Street Food from the vendors on the right and the trucks below.
If you're curious about Yao's Dragon Beard Candy (pictured above), a current Vendy Award Finalist in the Dessert Category, click here (and we'll throw in some sweet mini cakes as well).
We had to get this post out a little early today, so please check the pink Mobile Munchies twitter feed on our homepage before heading out for the latest info.

schnitzeltruck – The schnitz gods are lettin that sun shine! They must want you to get ur schnitz on:) 46th b/w 5th & 6th @ 11:30-2:00. We gots the goodies:)
StreetSweets – Gd morning 2 our terrific Midtown customers. Another glorious day, @ 46th St & 6th Av come stop by our mobile bake shop, we would love 2 c u
nyccravings – 24th btw park & madison…ready by 11:10am! FYI: We will not be out next monday-thursday.
Mexicue – Mexicue is posted up on 40th between 5th and 6th and open at 11:15 am.
waffletruck – Happy Midtown Eastuesday! We're on 52 btwn 3 & Lex til 4:30pm. Cheer for a country in the UN as if they were a sports team for 1 free dinges
CalexicoCart – It's taco Tuesday and it's beautiful out. Wooster & Prince is offering pulled pork in a roasted jalapeño salsa as today's special. For an unbeatable view, come check us out at Pier 1 in the Brooklyn Bridge Park. We're open 7 days a week, 11:30-9.
joyridetruck – Joyride will be at 26th and Park from 7:15am-6:00pm today. We have a new drip option out of Ethiopia: bold and smooth.
EddiesPizzaNY – water and broad until 3 today. buffalo chicken pizza special: $9 bar pie, $16.50 Large pies. Our truck phone is down so cal 9177104757 for phone orders
ETRAVAGANZA – Howdy! Mexican tacos ready at 11,tender carne asada,chorizo papa and chicken all white meat…mmmm
CupcakeStop – CupcakeStop trucks are on 99th and Madison and on 40th and 5th Ave. red velvet,funfetti,nutella crunch,almond a'more,cappuccino,oreo,hummingbird,tiramisu,vanilla choc chip, vanilla vanilla and chocolate mint!
quickstopkosher – Hey bnh'ers! We're coming through with a tornado of waffles and falafels!! there from 8am until 3pm! From 3:15 were at 27 west 23st! Touro! New!! Free deliveries within a two block radius!! Call at 212 674 6666
Hoboken/Jersey City
1 new tweet.
qbacubankitchen – Running late–we'll be at MHS by 11:15am. Beef empanadas today!