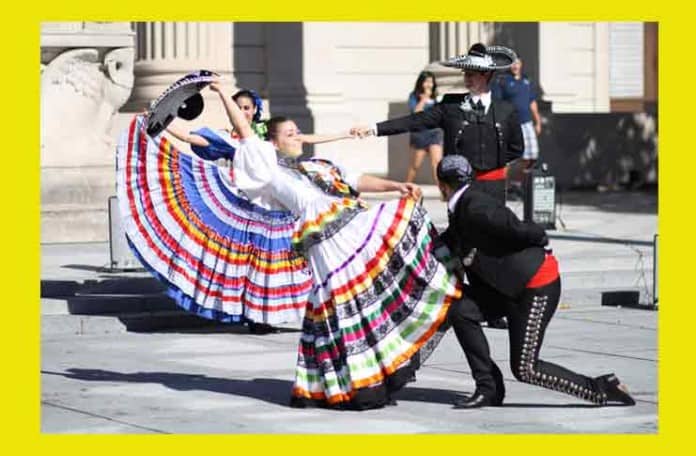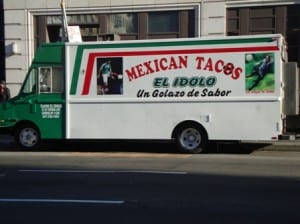 Today's Lunch is from the El Idolo Taco Truck, which spends a lot of weekends on 6th Ave between West 4th St and Washington Place in Greenwich Village, which is in my neighborhood, and where El Idolo was today.  They have a great looking menu, and today I chose a taco arabe with spicy pork and a taco with chorizo.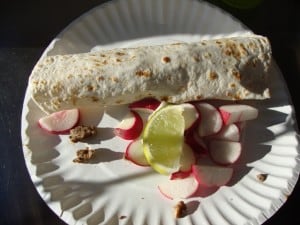 I started with the taco arabe (Arabian taco, pictured above), a rolled large flour tortilla filled with spicy pork and (at my request) hot sauce.  They also give you sliced radishes and lime on the side.  I opened it up, squeezed in some fresh lime juice, put in some radish slices, closed it up, and went to town.
The taco arabe was filled with spicy pork and hot sauce, and only spicy pork and hot sauce.  If you want lettuce and onions, get the regular taco.  It was delicious.  Spicy pork and lime, with a little crunch from the radishes and some hot sauce.  Wonderful – and at $3.00, the price can't be beat.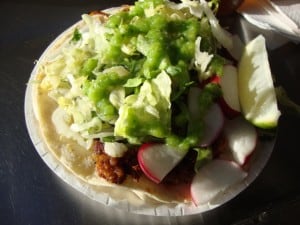 The taco with chorizo (pictured above) looked even better than the taco arabe.  It consisted of 2 flour tortillas (smaller than the taco arabe tortilla), grilled chorizo, lettuce, onions, sliced radishes and fresh lime on the side.  I squirted on some green salsa from a container by the window and dug in.
It was a very clean-tasting taco. The chorizo was good and there was a large amount of it, and the toppings were plentiful and tasty.  At $2.50 it was a good deal, too.
Of the two dishes I ate, I liked the taco arabe with spicy pork better.  It was a great dish.  The chorizo  taco was very good, but not great.  However, at a total of $5.50 for both dishes, it's one of the better deals around.
You could also tell that by the flow of people around the truck at 2:30 on a Saturday.  They don't seem to have a website or be on Twitter, but their followers know where to find them, and I see them on 6th Ave near West 4th St. in the Village on most weekends.