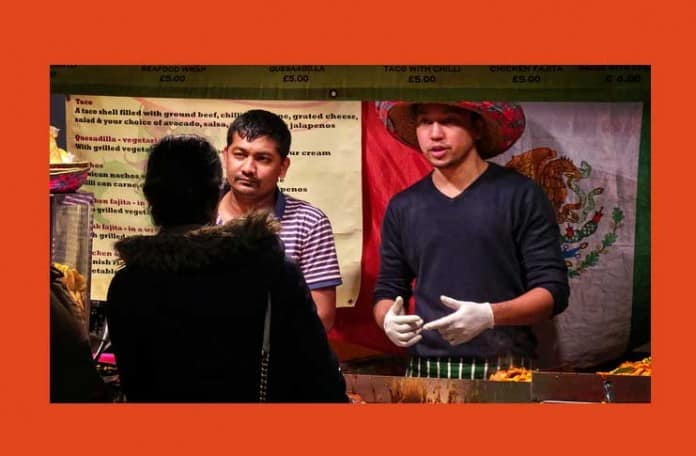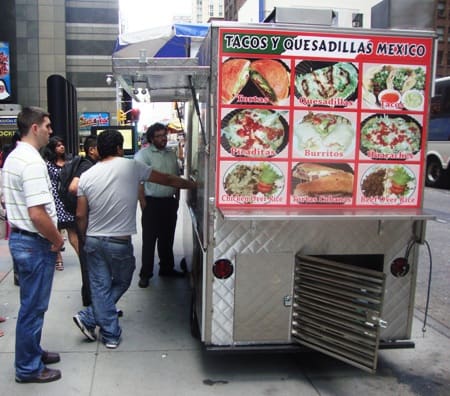 When I got out of the E train at the the 7th Ave station (53rd St) yesterday, I saw a cart with a bunch of people around it that said Tacos y Quesadillas Mexico.  I've been enjoying lunch from the Tacos y Quesadillas Mexico cart on 9th Ave between 58th & 59th St, and this had the exact same sign.  Did they move, open a 2nd cart, or was this an impostor?
I went back for Today's Lunch and found out this is a new cart from the same people as the original.  That's good, because now I have the option of heading south or west for good, fresh Mexican food within walking distance of my office.
I ordered a chorizo quesadilla, and also asked if they could put in a little chicken tinga as well.  They agreed, and that was Today's Lunch, which cost $5.50.
This quesadilla was a little different than the stereotypical Mexican quesadilla.  It wasn't two tortillas with some meat and a lot of shredded jack cheese in the middle.
This was a grilled tortilla with lots of fresh chorizo, grilled onions, lettuce and two types of cheese on it, which was then folded over into a sort of enormous Mexican taco.
The chorizo was a little spicy and quite tasty, and there was a lot of it!  The chicken tinga added another good taste to the mix.  The lettuce served the purpose of cooling things down and giving the quesadilla some crunch.
As I said, there were two cheeses.  One was like a creamy cottage cheese, but a little saltier.  The other had the taste and texture of string cheese, which was firmer and less salty.
I also asked for some hot sauce, which was salsa verde, that I put on the quesadilla after opening it up.  Their hot sauce is seriously hot, so be careful with it.
Today's Lunch from Tacos y Quesadillas Mexico was delicious.  It did get a little oily from the chorizo, but was still a great lunch at a very good price.  Service was a bit slow, but it often is at new food trucks and carts until they work out the kinks.
Congratulations to Tacos y Quesadillas Mexico on their second cart.  There is definitely a need for good Mexican food around 7th Ave & 53rd St, which was borne out by the crowd there for lunch.