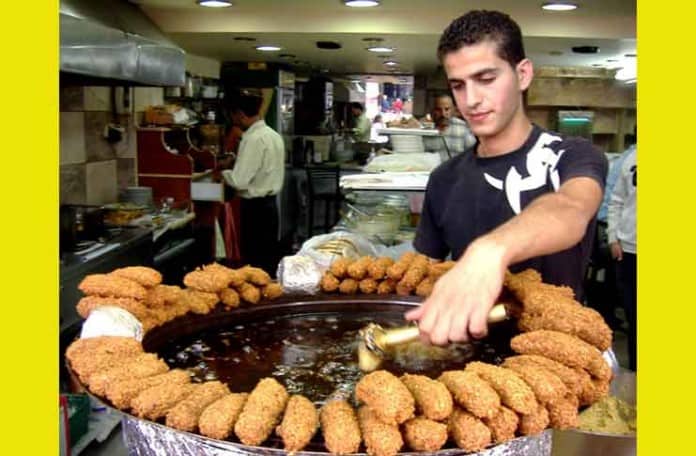 Another reader (who did not want to be named) suggested a new stand to try, the Famous Falafel & Gyros cart on the SE corner of 52nd St & 7th Ave.  In the low 50's around 6th-7th Ave, many of the carts have "Famous" in their name, so it's more a matter of which corner than the name.  This cart was across 52nd St from the Sheraton Hotel.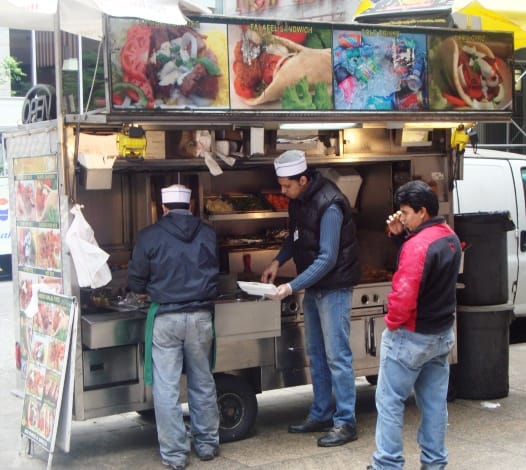 This reader said they have a nice marinade on the chicken, and that jalapenos were available as a topping, which sealed the deal.  Today's Lunch was chicken over rice from the Famous Falafel & Gyro cart.
They have 3 kinds of rice to choose from – white, yellow and brown.  I chose brown, which they gave me in 3 or 4 heaping spoonfuls.  This was a lot of rice.  For toppings, I asked for jalapenos, white sauce and hot sauce.  They even put jalapenos on my salad, which took me by surprise.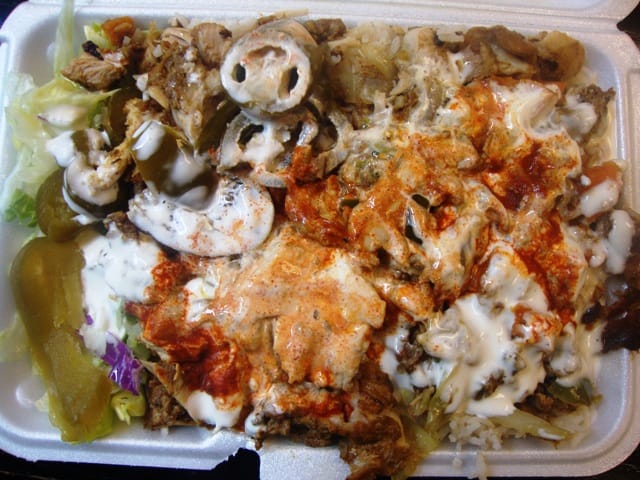 When I got back to the office, it looked like a huge container of wonderful goodness, but the chicken was only good, not amazing.  I tried some chicken plain, but couldn't really taste any special marinade.  There was a rub, but it was fairly standard.  Everyone puts something on their chicken to spice it up – nobody cooks plain chicken.  This dish was a mix of white and dark meat, and there were 2 bites of skin or fat that I had to spit out, which is a definite no-no.  That's why I prefer the chicken breast featured at places like Carnegie John's and Tony Dragonas' carts.
There were some carrots mixed in with the chicken, which gave it some variation.  The carrots were soft, and added a nice sweetness.  The white sauce was a little hard to detect, but it helped spread the hot sauce around.  Their hot sauce was hot, and with the jalapenos, this was one of the hotter dishes I've eaten recently.  The rice was nice.  They called it brown rice, but it was more of a basmati rice than the brown rice you get in Asian restaurants.
Today's Lunch was a 6 out of 10.  The chicken was ok, but I did get two bites of fat or skin that had to be spit out.  The rice was good, as were the carrots, jalapenos and hot sauce.  The price of $5 was fine, and there was plenty of food, but I don't expect to be going back there again.  Thanks for the suggestion _____, but Famous Falafel & Gyros was not at the level of the other vendors listed on New York Street Food.