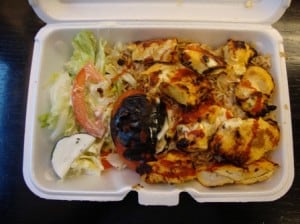 Today's Lunch is the chicken kebab with rice and salad from Kebab Express, just in from the southeast corner of 55th St and 6th Ave.  They are a relative newcomer to the New York Street Food scene who recently received some buzz on Midtown Lunch.  Judging from Today's Lunch, they are going to be around for a while.
They grill the chicken right on the spot, and there were 9 large, perfectly grilled marinated white meat chicken pieces.  They had that nice grilled flavor and some slight charring, which is how grilled chicken should be.  The chicken would have been a little dry without the white and hot sauces, but was excellent with them.  I'm not big on the shredded chicken at most halal stands, and prefer the white meat chicken like you get at Carnegie John's food cart.
There was a choice of brown or yellow rice, and I chose the brown rice, which was very good.  It was not overcooked, which can be a problem with some street food vendors.
The salad was pretty basic with lettuce and one piece of cucumber, but they also included a grilled half tomato.  That's the round, black item in the middle of the picture. I don't really like tomato, but if you do, it was nicely grilled on one side.  The standard white sauce served as the salad dressing.
I'm not sure of the price because the Kebab Express video showed the price as $6.50, the cart menu today said $7.50, but then they only charged me $6.50.  I guess they're still working out the kinks on pricing, but certainly have the food part down.  Either way it was an excellent value, with plenty of meat and rice in the platter.  My wife and her friend could probably share it and be just fine until dinner.
It takes a little while to grill the kebabs, so I would suggest calling ahead to place your order and just pick it up.  It's too cold right now to wait outside for 15 minutes.  They told me 10 minutes when I called, and it was more like 15, so it was well worth calling ahead to 347-666-0554.
They have around a dozen dishes, and I'm going to try some others in the future, especially the lamb kebab platter, the kobideh, which is a Persian minced meat dish with onion and spices, and the fish and chips, which as we recently found out, turns 150 this year.