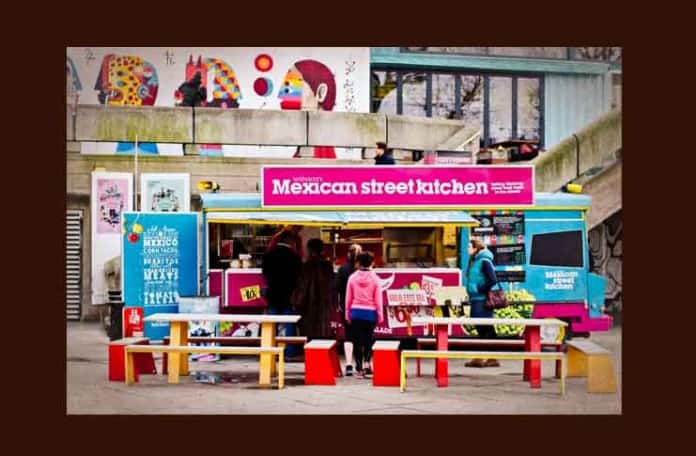 Today's Lunch is from the Mexican food cart on West 50th Street between 6th & 7th Ave (much closer to 6th Ave).  People generally call it the sombrero cart because it has a giant sombrero on top with a picture of Speedy Gonzalez (who was always one of my favorite Warner Bros cartoon characters), but by the picture of Speedy, it says The Border a la Carta, as it does on the back of the cart.  Mystery solved, and I didn't even need the Mystery Machine (another cartoon reference).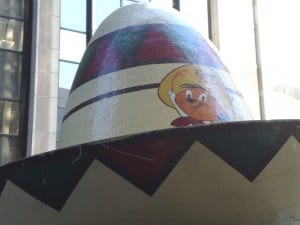 I haven't been to this cart before, although it's been there for quite some time, so I asked what they recommended, and they said a beef or chicken burrito.  I went with chicken ($6).  They also had tacos, burrito/taco combos and rice and beans for the vegies among us.  In addition to the burrito, they piled on rice, refried beans and jalapenos (my request).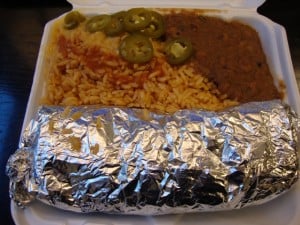 The Mexican rice was good, not overcooked, and the refried beans were good, too.  Not a pile of mush, but some whole beans mixed in among the mashed beans for varied taste and texture.
The burrito was a bit moist, from either the lettuce or jalapenos, and the tortilla ended up softer and falling apart a little.  A definite no-no for street food.  But the filling was very nice.  A lot of shredded chicken, lettuce, sour cream, jalapenos, hot sauce, and the definite taste of cheese.  It sounds quite heavy and spicy, but was not that hot.  As far as filling, yes, but not stuffed to the gills. However, when the rice and beans were added, it reached that level.  It's the price I pay for doing the legwork for you.
Today's Lunch was an 8 out of 10.  The soft, wet tortilla took away some points, but the burrito filling and side dishes were all really good.  If they can keep their tortillas dry, it will be more like a 9.