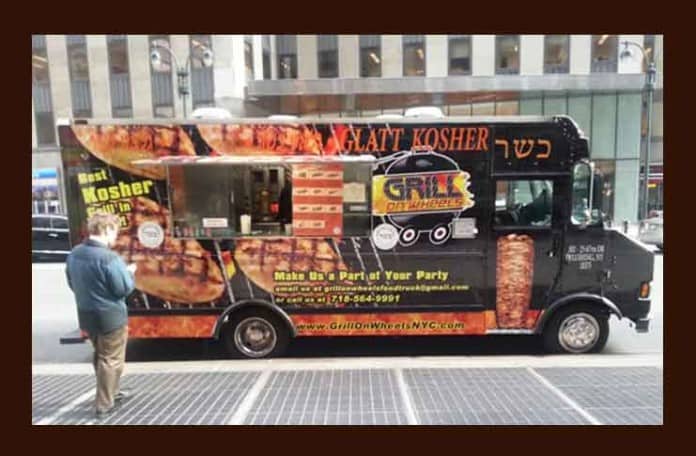 It's a beautiful, sunny day in New York with the temperature in the 40's.  A veritable heatwave.  Cupcake Stop will not be out due to truck maintenance, and Steak Truck and Taco Truck are both back in town.  Perfect day for getting lunch from one of these great food trucks and carts:
CalexicoCart – Both carts are out and bringing the heat. Come and get it!
steaktruck – we r back again after mini vacation .
RickshawTruck – Good morning DUMBO! Monday means dumplings even if Gossip Girl is filming here! We are on Washington bet Front + York today! 11 to 3.
schnitzeltruck – It's a beautiful day for a schnitzel no? We'll be @ 52nd bet 6th & 7th @ 11:30… No phone orders today. Sorry
waffletruck – Happy sunny Monday in wafel-land. Broadway & 113. Gives us a prediction for Best Movie Oscar, for 1 free dinges.
StreetSweets – We r on 5 Av & 23st until 3:30, then off to 9 Av & 59 St. We will be baking on the truck all morning & into the afternoon, we have soups too. OUT OF THE OVEN NOW! Mimi loaf cakes c chip, lemon, pumpkin. Scones, cc cookies, choc flourless walnut, & later our famous Macarellas, yum
VLAIC – Good morming! Roo is at 5th and 15t, Panda 6th and 22nd til 10am then 23rd and 5th til 4pm. Yummy pastries aboard!!
CupcakeStop – Taking the day off to continue our Cupcake truck upgrades. We'll be announcing out February New Flavor Suggestion Winner later today!
New Jersey Food Trucks
thekrave – Location 1: Hudson and Essex, Inside Liberty Towers Gourmet, 11:45-2:30 http://tumblr.com/xl16y0e4f
laspicetruck – LST returns for lunch to exchange place 11:45. PP SW, morrocan chix and lentils, praline and choc
TheTacoTruck – Its official…we ate at 18 different places in 4 days while traveling across Mexico City. Check out the Photos and… http://fb.me/65WShZK acebook
As always, check out the pink Mobile Munchies twitter feed on our homepage for the most up-to-date information.