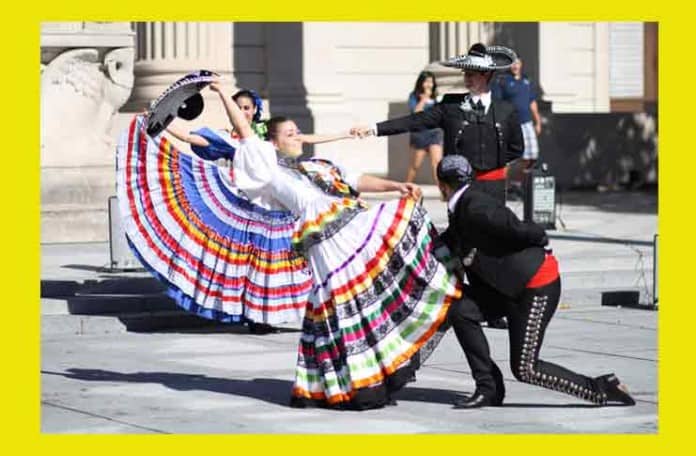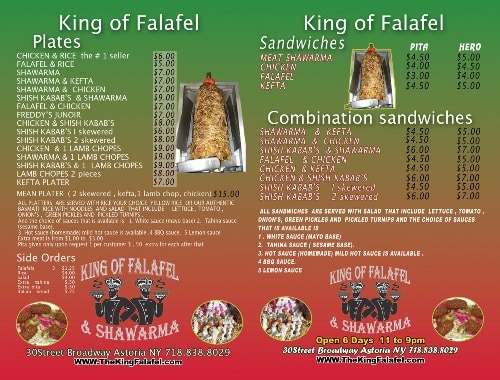 I had an opportunity to be in Soho around lunchtime, a rarity, so I had to go back to Calexico Carne Asada.  You probably know who they are, but if you don't, Calexico were winners of the top 2008 Vendy Award.  They currently have 2 carts in Soho (Wooster & Prince and Crosby & Broome), a cart in Brooklyn Bridge Park, and a restaurant at 122 Union Street in Brooklyn.
Today's Lunch is a carne asada burrito ($8) from the Calexico Carne Asada cart on Wooster.  Are they as good as all the hype?  Click through to find out.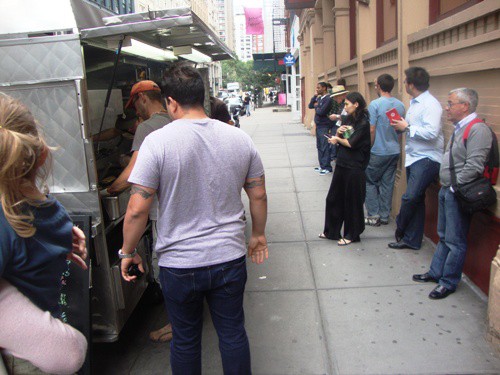 One reason it's tough for me to eat lunch at Calexico regualrly is because of how popular it is.  Not only do I have to truck down to Soho, but there's usually around a 30 minute wait between ordering and pick-up.  That's not because they are slow – on the contrary, they are pretty fast.  It's just that so many people go there regularly for lunch. They don't take phone orders – you just have to order and wait, which was ok for today.
There is always meat grilling on the cart, so I don't mind hanging out, taking in the aromas, and watching them put all the orders together when I have the time.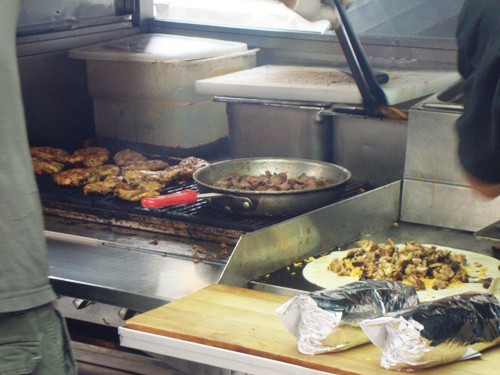 The carne asada burrito starts with a large tortilla getting warmed up.  Then they add two types of shredded cheese, black beans, a lot of grilled meat, rice, pico de gallo, and avocado crema.  It's rolled up, put on the grill a few seconds more to seal it, and wrapped up in foil.
This is a serious burrito.  It was thick from all the fillings, and the fillings were evenly dispersed.  I hate burritos where the first bite is one ingredient, the next bite is another ingredient, and so on.  Just about all the bites had several ingredients…and the ingredients were excellent!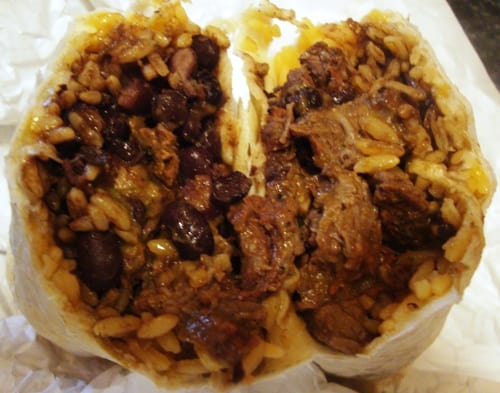 Before eating the burrito, I cut it in half and took out a piece of meat to taste.  The carne asada was nicely marinated, and there were two distinct flavors – grilled beef and lime.  No need to squeeze on more lime.  The beef was tender and cooked just right.  Delicious!
I'm not a huge fan of beans, but the black beans were very good.  Not too hard or soft.  The other ingredients were great too – some rice, plenty of cheese and an avocado cream sauce.  I asked for no pico de gallo in my burrito, but it is otherwise included.
Today's Lunch gets a 9 out of 10.  Calexico is one of the reasons street food is so popular, and deservedly so.  They have the making of burritos, tacos and quesadillas down to a science – but the finished product is a tasty work of art.
I've now been to Calexico several times, and there's nothing you can order that isn't excellent – it's just a matter of what you're in the mood for.  Just make sure you have some time to spare.