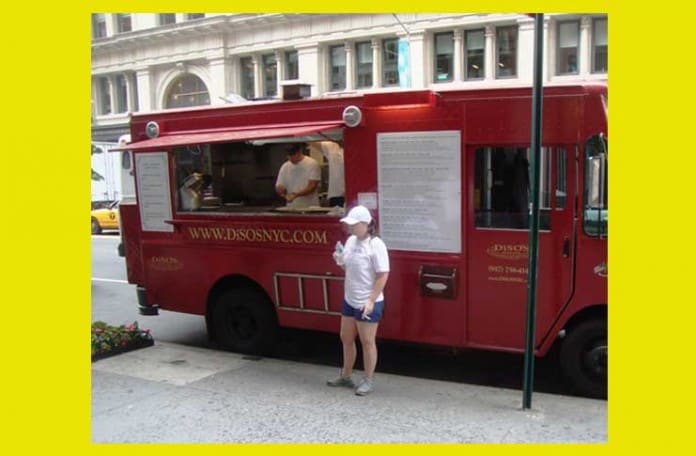 It's a beautiful day out, but things are pretty crazy around here right now.  Without further ado, here is where you can find today's Mobile Munchies.
A lot of the trucks will be at different events for Fashion's Night Out tonight.  There are too many events to list, but you can check where each truck will be on our Mobile Munchies twitter feed (now available on the New York Street Food app).
StreetSweets – Meatpacking district the Spl black & white Saks/Street Sweets truck is coming 2 c u, look near the Gansevoort Hotel at Noon 4 our sweet ride. Do you want to be a part of a Fashion's Night Out event, click the special Street Sweets/ Gilt City link. How sweet is this, come 2 Lord & Taylor 6p-11p, 10th fl. & get to hang out with The NY Jets Flight Crew Cheerleaders, & get a SS sweet too.
Mexicue – 18th Street and 5th Avenue today. Open at 11:30 am.
EddiesPizzaNY – Today (Fri 9/10) we are on Park Ave btwn 26th and 27th until 5:30PM and then we are off to Malawi Clothing Store from 7pm-9:30pm. One more day to get our Fire Drill! Local Pepper, Hot Cherry Peppers and Franks Hot Sauce! Sorry, no street meat pizza today. dont forget you can call ahead your order. 917-439-7522 begin_of_the_skype_highlighting 917-439-7522

fritesnmeats – Howdy FiDi! Burger Love's kicking off the wknd off ! Were on Water & Broad. Last day for the Ploughman! Check out our Chili Cheese Frites! Hey FiDi, were taking preorders. Just call it in & pick it up. 917.292.9226
RickshawTruck – Friday Sept 10. On our way to Midtown West: 45th + 6av as well as Chelsea Market: 15 + 9av. Be there from 11a to 3p
schnitzeltruck – Remember kiddies, we'll b @ 52nd & lex @ 11:30-2:00. We have veal for ya plus all the other deliciousness!:) If u want veal come early:)c ya
CupcakeStop – CupcakeStop trucks on 99th and Madison and 7th and 29th w/ red velvet, funfetti,van choc, oreo, nutella, cinnamon, vanilla chip & choc mint
waffletruck – Happy Fantabulous Friday! We're on 52 btwn 6 & 7 til 4:30pm. Order with an attitude today for 1 free dinges.
VLAIC – Good morning ice cream, coffee and sweets lovers! Check us out at 4 truck locations: 5th & 15th, 23rd & (cont) http://tl.gd/5vl3f1
LCBBurgerTruck – Come grab and enjoy the tastiest 100% grass fed burger from the La Cense Beef Burger Truck today! We're outside 111 Wall St. Happy Friday!
BistroTruck – We won't be open today due to the Holydays. We wish everybody a happy and prosperous "Aid". See you everybody next Monday.
Hoboken/Jersey City
VeganLunchTruck – Parked on Sinatra between 1st & 2nd serving breakfast and lunch by the river until 3:00. We love you!
TheKrave – Schedule – Hudson and Harborside Pl, 12:00-2:00 Columbus and Marin, 5:30-9:30 http://tumblr.com/xl1i5b3fp