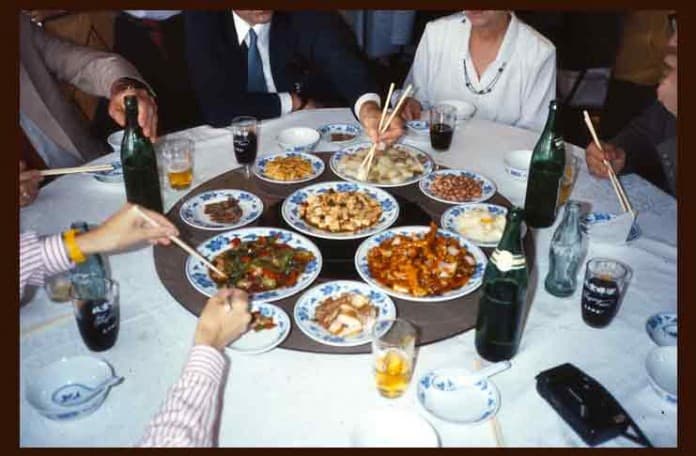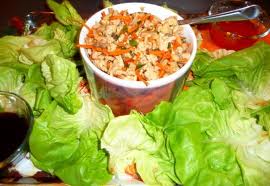 This recipe gives you the great moo shu taste without having to worry about making or finding Chinese flour pancakes.  It's healthier this way, too.
As with most moo shu recipes, you can use pork, beef, shrimp or mushrooms instead of chicken.  A little cooking in the wok, roll into the lettuce, and eat.  Simple and tasty.
Moo Shu Chicken Lettuce Wraps
1 tbsp canola or similar oil
2 cups sliced mushrooms
3/4 lb boneless, skinless chicken breasts, cut into very thin strips
3 cups shredded cabbage or coleslaw mix
1/2 cup matchstick-cut carrots
1/2 cup thinly sliced red bell pepper
2 scallions, thinly sliced
3 tbsp hoisin sauce, or to taste
1 small head Boston or Bibb lettuce, leaves separated. Discard core.
1 tbsp rice wine (or sherry if preferred)
1 tsp sesame oil
1 tsp soy sauce
Place wok over high heat. Add canola or similar oil to wok. Saute mushrooms for 1-2 minutes.
Add chicken, cabbage, carrots, bell pepper and scallions and saute for 5-7 minutes, or until tender.
Add hoisin sauce, rice wine, sesame oil and soy sauce.  Stir to combine.  Cook for 1-2 minutes or until chicken and vegetables are cooked through.
Spoon moo shu into lettuce leaves. Top with a drop or two of hoisin sauce, if desired.
Enjoy!