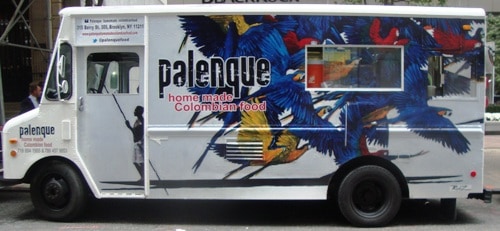 If you've been missing your arepas, we have some good news for you – Palenque is back!  In December, Nena told us they were taking some time off, but they would be back in late February.
Late yesterday afternoon our Palenque radar went off from this tweet: "Hey, palenque followers. We (are) open today in Williamsburg! On Bedford and N1. Come, come to eat arepas!!!"
We couldn't make it to Williamsburg last night for dinner, but we will try to get to Palenque as soon as possible.
Last October, Palenque started showing up around NYU, then was in other neighborhoods like Williamsburg and Midtown.  We became quite fond of their Colombian-style arepas.
Unlike Venezuelan-style arepas which are a type of sandwich, these are served open-faced on a grilled tortilla made of corn, quinoa or brown rice.  The arepa below has a brown rice base.
You can follow Palenque on twitter here or on our Mobile Munchies twitter feed.