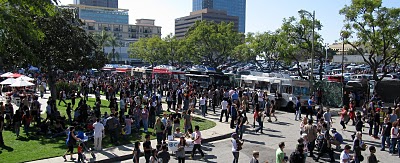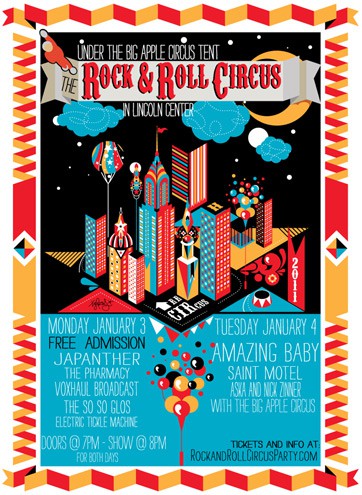 Tonight and tomorrow night, an event modeled and named after the Rolling Stones' Rock and Roll Circus hits Lincoln Center, with a lineup of indie music groups like So So Glos, Amazing Baby, Japanther and Nick Zinner of the Yeah Yeah Yeahs.
The first night of just music is free, but the 2nd night – which includes music plus Big Apple Circus performances – requires tickets that cost $25 for mezzanine and $30 for ringside seats.
In addition to a concert staged under the big top, the current NYSF Featured Vendor – Mexicue- as well as Van Leeuwen Artisan Ice Cream and Asia Dog will be on the premises selling their delicious food.
Click here for the Rock & Roll Circus Party website and here to buy tickets for tomorrow night's show.
The NY Times Magazine section caught up with Jessica Resler, founder of the brand development firm Muffincupcake, who engineered the project along with the event producers Ardasha Benjamin and Vance Garrett.  You can read their interview here.