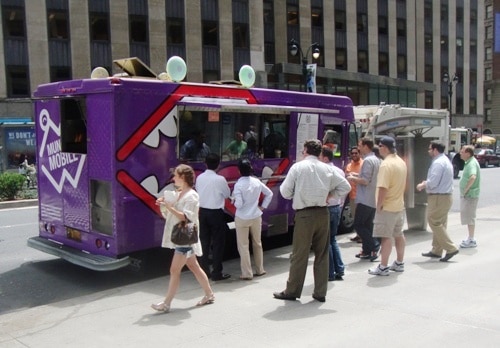 We felt for a Spicy Tuna Melt. Following a food truck's Twitter account can give you more than just their location. Last week the Munchie Mobile tweeted "TUNA TUESDAYs! $5 Tuna Meltdowns if you show us this tweet!!!"
It's been a while since we had that staple of the American lunch diet, a tuna melt.  And with a $5 Spicy Tuna Melt, we had room in our wallet for $4 onion rings.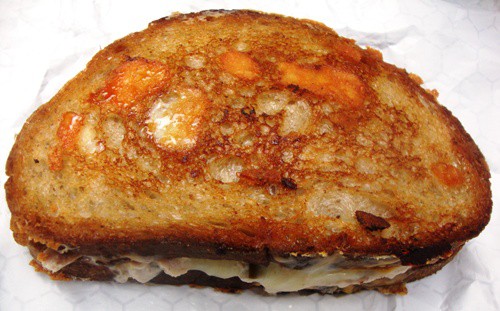 The Spicy Tuna Melt melt comes on sourdough or wheat bread, with slices of tomato and red onion. You also have the option of getting it spicy, which I did. In the spicy tuna, they mix pieces of jalapeno into the tuna, but it's not overly spicy. When I make tuna salad at home, I like to mix in pickle relish. This was similar in texture, but also added some heat to the sandwich.
They use both American and cheddar cheese on the sandwich, so it's nice and cheesy. The bread is well grilled, so the crust is crunchy, but the rest of the bread is just toasted.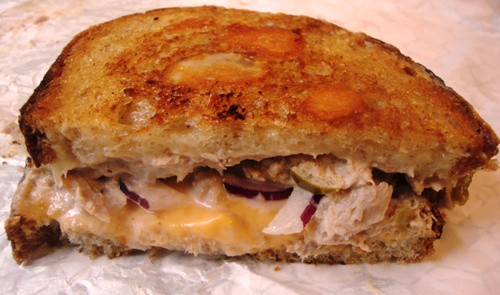 The onions rings come in a quart sized takeout container, which they leave open so as not to steam up the rings. Good idea. There's nothing worse than soggy onion rings.
You can't see how many rings there are because of the container, but this was a big side dish. There were 9 thick rings of varying sizes in the order, which were made with big, whole onions.
I'm not sure if they use Vidalia onions, but these were just as sweet. These were tasty onions rings, with nice breading, but towards the bottom of the container, they got a bit oily.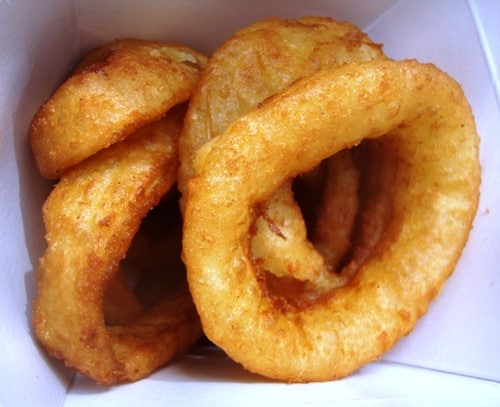 You can find Munchie Mobile on Twitter here or our Mobile Munchies twitter feed. Their full menu is here.
If you have room for dessert, we highly recommend their fried Oreos. Mmm good!