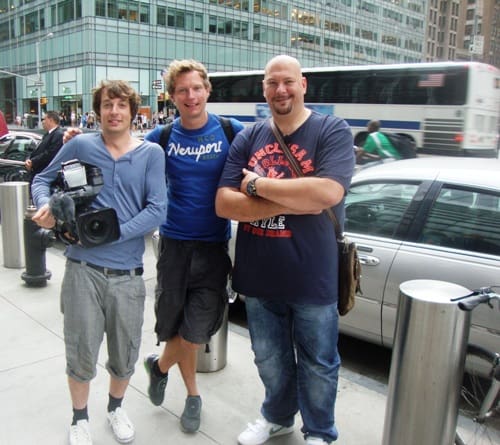 A couple of months ago, we were contacted by a German TV production company who were putting together a show about great and exotic NYC street food for a program entitled Galileo. They were coming to New York and wanted to tap into my expertise about the best and more exotic street foods available in NYC. Sounds like a fun way to spend the day.
The host of the show is Jumbo Schreiner, an actor who has been in a bunch of German movies and TV shows, and also does travel/food shows around the world, a la Anthony Bourdain.
Drawing on my knowledge and connections, I set up a few "exotic" street food visits, as well as some of the great street foods we all know and love.
Friday was a weird day. It was pouring at our first stop, but was sunny by our third stop. Overall, it ended up being a very fun day.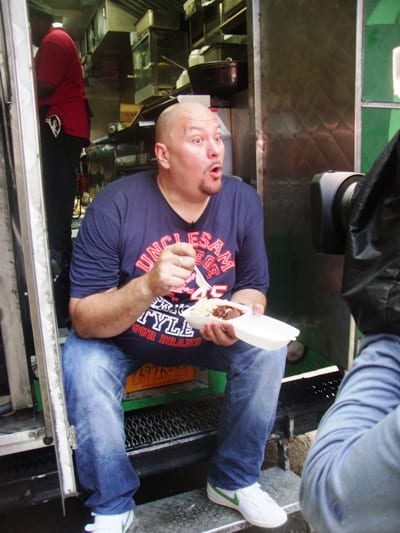 Our first stop was El Rey Del Sabor, the 2010 Vendy Award Finalists. A few days before their visit, I asked Rosa if she could get us chapulines, the grasshoppers that are popular in Mexico and in Mexican neighborhoods. Rosa said she could.
That was the first order of the day, and we had salted beef and al pastor tacos after the chapulines. If you're curious, chapulines were crunchy, almost nutty in flavor, and I'm sure they were packed with protein.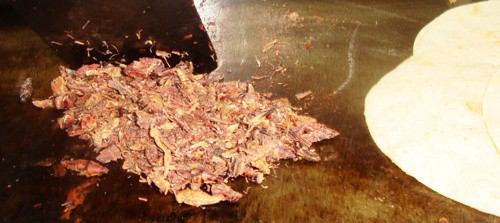 After eating some delicious tacos, we headed a few blocks north to Biryani Cart. Meru's kati rolls are one of the best street eats in the city, as evidenced by his winning of the People's Choice Award at both the 2009 and 2010 Vendy Awards. Meru's Spicy Buradi Roll is also one of the hottest things I've eaten.
Jumbo started with a King Koti Roll, which he said was perfect. He then moved on to a Spicy Buradi Roll, which I asked Meru to make as hot as possible. As always, Meru was the consummate professional, even bringing Jumbo a glass of milk after the Spicy Buradi Roll to help temper the heat.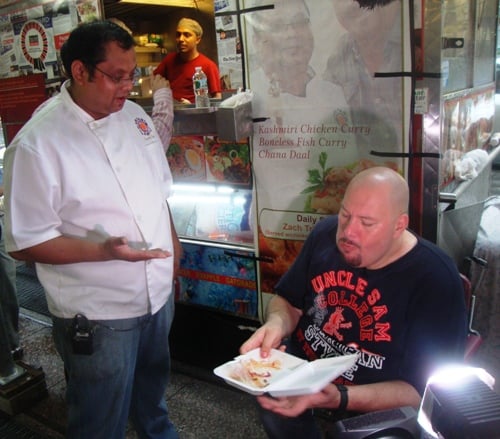 After Biryani Cart, we headed over to Jamaican Dutchy. I asked O'Neill if he could get a couple of things that were not usually available in Germany. O'Neill came through with a cow's foot and oxtail for Jumbo to eat, then added some jerk chicken and plantains. The jerk chicken and plantains reminded us why Jamaican Dutchy was a 2009 Vendy Award Finalist.
Yes, oxtail is also a traditional German dish, although certainly not the way O'Neill makes it. The top photo is Jumbo sitting on the back of the Jamaican Dutchy truck enjoying his food, with O'Neill in the background cooking.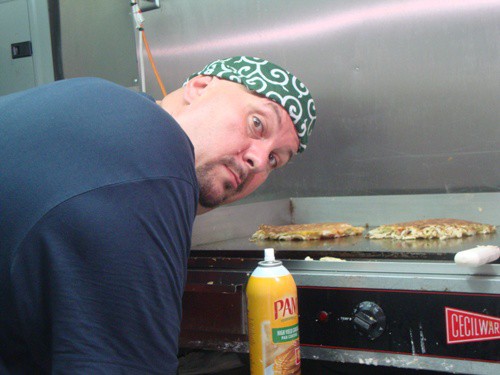 Our final stop was at Okadaman, one of our favorite new vendors of 2012. They let Jumbo help cook okonomiyaki, even giving him a traditional headband to wear.
We ended the day at one of my secret locations to get a fantastic view of downtown. Maybe it was the view, but by the end of the day, I grew quite fond of the big guy!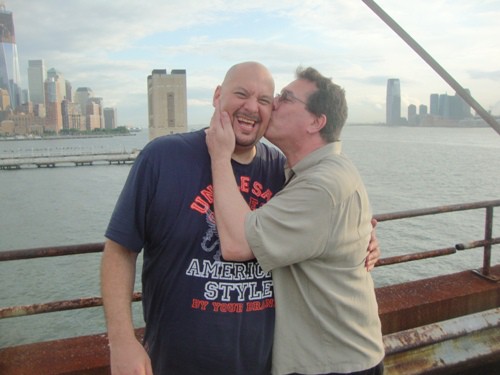 The Galileo show we filmed is expected to air in mid-September, and Cornel said he would send me a DVD of the episode. We'll post it when we get it, although most of the show will be in German.