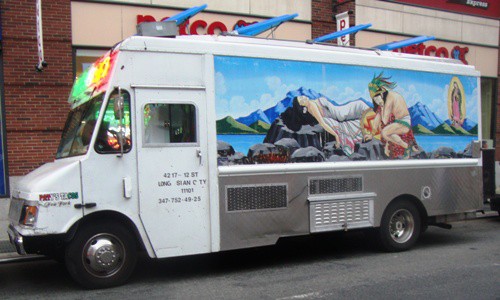 With all the chatter about the upcoming Vendy Awards, and a recent appointment on the Upper East Side, we decided to stop by Paty's Tacos (also spelled Patty's Tacos on one sign) for a couple of small goodies.
Last year Paty's was given the very first Most Heroic Vendor Award from the Vendys folks for taking on NYC in the legal arena. If you want to read more about that Paty's legal fight with NYC, click here.
We needed a couple of noshes before our appointment, so we got an order of sopes for $5 and a spicy pork taco for $2.50.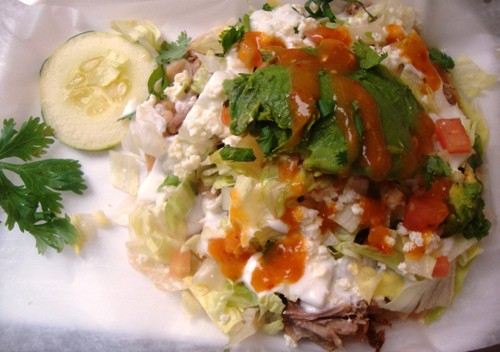 Sopes are made with a thick corn tortilla topped with lots of goodies. They all come with beans, lettuce, tomato, sour cream, queso fresco (cheese) and your choice of meat. We got carnitas, better known as pork. The whole thing is topped with avocado, and we put hot sauce on it too.
This is definite fork and knife food. There's no way you can pick it up without making a huge mess.
The pork was nice and tender, although a little salty from the seasoning. The cheese came through loud and clear, and the lettuce,  tomato and avocado gave this an "almost salad" feel. A little fresh cilantro also freshened up the dish.
By the end of this dish, the thick corn tortilla on the bottom had picked up a little bit of all the other ingredients, making a nice ending for the sopes.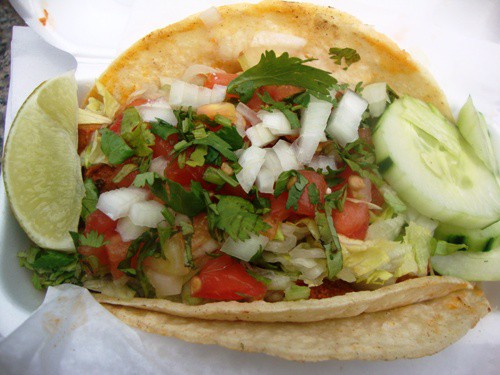 As with all authentic Mexican vendors, Paty's Tacos come with two tortillas. They also come with lettuce, tomato, onions, cilantro, a slice of cucumber, and a wedge of lime. On the taco, we got spicy pork, which you can't see under all the toppings.
Here's what the spicy pork looked like under the toppings. There were chunks of pork that had been rubbed with a red chili paste. The meat was tender and not too spicy, considering the color of the pork.
We can see why this truck is called Paty's Tacos and not Paty's Sopes. The sopes were good, but the tacos were even better.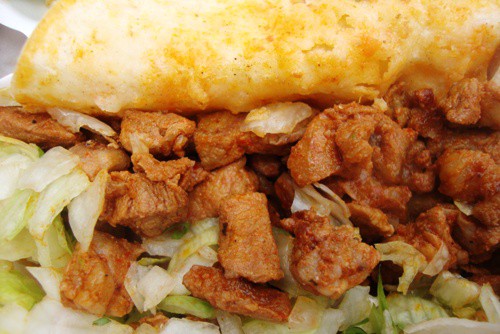 Yes, Paty's Tacos still spends some time at their old 86th St & Lexington Ave spot, but they also spend a lot of time in Union Square, on the corner of 14th St & Union Square West.
Paty's Tacos has accounts on Facebook and Twitter, but there's hardly any activity.  That's fine, they are easy to spot from either the big neon TACOS sign on the front of the truck or the painted mural on the side of the truck.
The mural shows an ancient Aztec sacrificing a woman (virgin?), with the Virgin Mary looking on. What's up with that? We're not going to try deciphering it. Let's leave that to the art history majors.