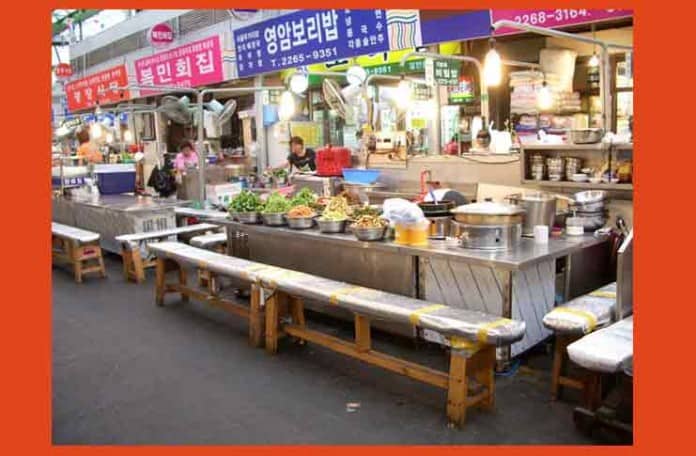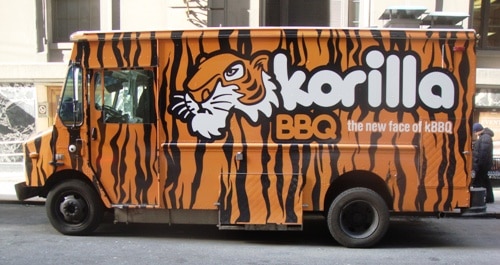 One of the most popular food trucks in the city is still Korilla BBQ.  We have been following Korilla before they were even on the street, and we were there last fall when they won the 2011 Vendy Award for Rookie of the Year.
The shocking events of last summer on the Great Food Truck Race did not seem to hamper Korilla's popularity.  Maybe because their food is both interesting and delicious.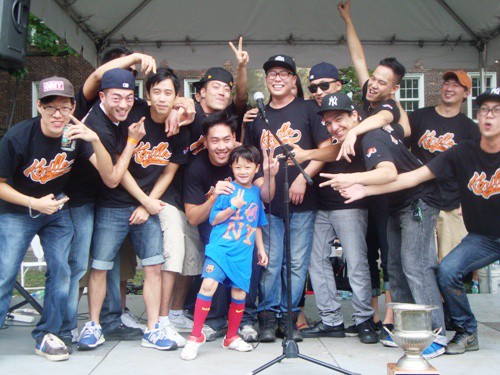 Whether you've been to Korilla BBQ before or not, it can still be a bit intimidating working your way through the ordering system with a long line of people behind you waiting to order.  There are tons of choices, so let us show you the options in advance.
First you choose a vehicle for the food, next you choose a protein, then your rice, veggies, kimchi type, cheese and pico de gallo, and finally the sauce. Whew!
Or you can go with their recommended combinations. Just choose the type of vehicle (tacos, burrito, chosun bowl), the protein (beef, chicken, spicy pork or tofu), and let them do the rest.  That's what I did.  It gives you a nice variety of toppings that way.
Each taco comes with 2 tortillas. This is important, because one tortilla would likely break from all the fillings.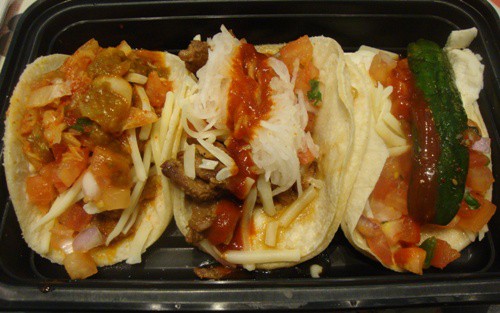 The proteins are all good, so it's more a matter of what you're in the mood for. The pork is spicy all by itself, the tofu is soft and pillowy, the chicken had a good grilled flavor, and the bulgogi beef (which I've previously had) is nice and marinated.
The kimchis offered some variety as well.  The red kimchi (on the pork taco) was the spiciest and had the most vinegary taste, the shredded daikon (on the chicken taco) was cool and refreshing, and the cucumber spear (on the tofu taco) had that pickle vibe going on.  As if Korean and Mexican wasn't enough of a mix, they had to add a staple of Jewish NY, a pickle!
You get 3 tacos for $7, which is a nice amount of food for a good price.  With all the toppings, it can get a little messy, so make sure you eat over a desk or table – or you may end up with a K'illa stain on your shirt.
Find Korilla BBQ on twitter here or on our Mobile Munchies twitter feed here.