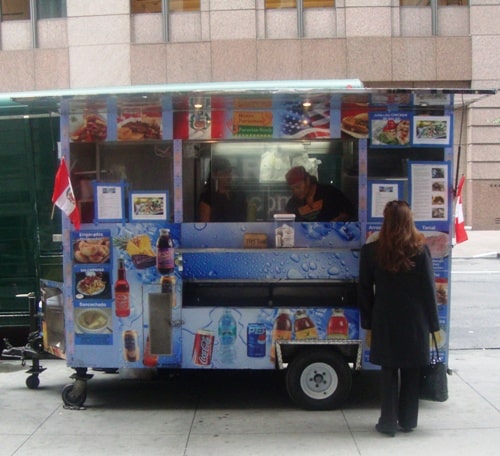 We headed over to 46th St & 6th Ave yesterday to check out Meru's new food cart, Vooter Adda. Unfortunately, it was nowhere to be seen.
Where else could we go for lunch in that area. Only a few thousand choices!
Across 46th St and a little up the block from Biryani Cart, there was a familiar light blue colored cart, Manos Peruanos. Hey, aren't they supposed to be on 47th St?
It turns out they have been parking on 46th St Wednesdays only, and are on 47th St the rest of the week.
Now that we're settled, what to have for lunch. We went for their Daily Special, which was Steak Over Spaghetti with Pesto Sauce for $10. It sounded Italian to us, but she assured us it was a Peruvian dish. (See Johanna's comments below about Tallarines Verdes, the Peruvian name of this dish).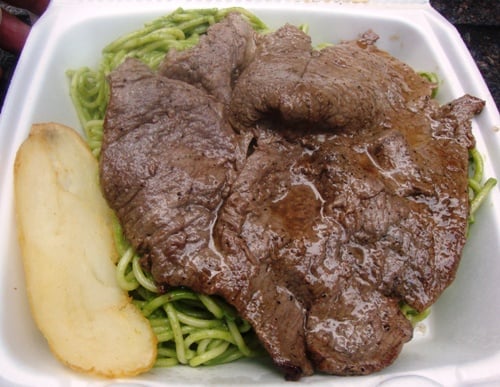 She asked how we wanted the steak, and we said medium. The steak is cooked in a pan over a flame, but they cover it, and use a low flame. She said that steams the steak and makes juicy.
The spaghetti and pesto were cooked together for a little while in another pan, then put into a container. After the steak was added on top, she poured the juices from the steak pan over everything, and it was quite juicy.
The steak was big and wide, but fairly thin. It wasn't Steak-Umms thin, but it wasn't a thick steak either.
Steak covered most of the spaghetti in the container, and you could see it was dotted with black pepper.
We wouldn't call the steak especially tender, but it was not overly tough either.
Lunch came with a small cup of green hot sauce, which we poured over the steak. It wasn't that hot, but did perk up the beef.
The spaghetti was not al dente, which is our preference, but it was not mushy either. There certainly was a huge amount of spaghetti and pesto sauce.
Speaking of which, the pesto sauce was vibrant, with lots of herbs (esp. basil) and garlic.
We're not quite sure why, but they put a small baked potato wedge in the container too. Guess the spaghetti didn't meet our minimum daily requirement of carbohydrates.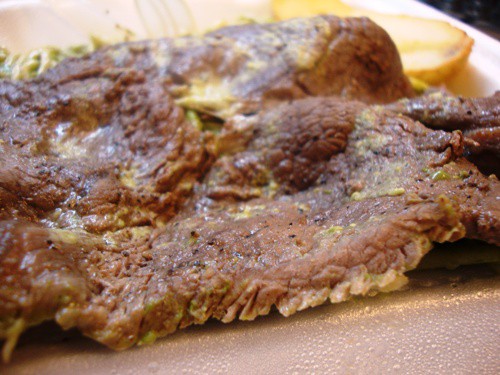 We don't usually get drinks with lunch, especially when eating Spaghetti with Pesto Sauce – but while ours was being cooked, a guy came up to the cart and pulled a purple drink out of the drink case that we had never seen before. We like grape juice and soda a lot, so we got a bottle too for $2.
Turned out the drink wasn't grape, it's called Chicha Limeña, and was a purple maize (corn) drink. It was pretty sweet, and had a fruit-punchy taste, with a clove and cinnamon aftertaste.
Halfway through the bottle, we checked the ingredients. Not one chemical! The only ingredients were filtered water, sugar cane, purple maize extract, pineapple, lemon, cinnamon and cloves. Nothing artificial at all!
Manos Peruanos came through again with a solid lunch (and an interesting drink). The food this time didn't really seem Peruvian (see Comments below) but it was a good, filling lunch.
We cannot find any social media for Menos Peruanos, but they are located on 47th St between 6th & 7th Ave every weekday for lunch except Wed, when they are on 46th St.