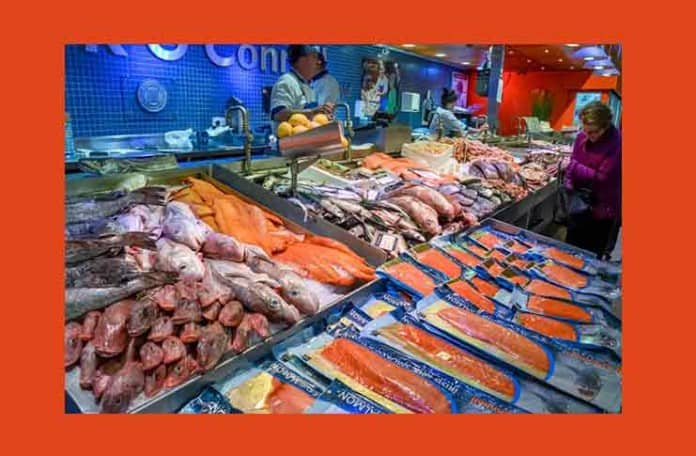 The Bulgogi & Kimchee Cart on 49th St between 6th & 7th Ave got a makeover last month.  It's now known as Bapcha, which literally means "food cart" in Korean.  I've had their dak kalbi (short ribs), bulgogi (barbecued beef) and spicy chicken.  Trying something new, Today's Lunch is the saewoo bulgogi (barbecued shrimp) for $8.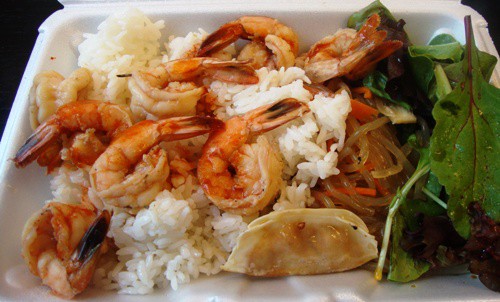 There were 8 medium-sized shrimp over white rice, and I asked for a little hot sauce as well.  The shrimp were nice and juicy and had that grilled taste.  The hot sauce was not really hot, but had a tiny bit of sweetness to it that made it different from other hot sauces.
The shrimp were butterflied on top and cleaned, although not perfectly.  Two of them still had a little bit of vein, but it was only a little, and was easily removed.  The shrimp were very tasty, grilled just the right amount of time, and 8 were plenty, especially with the side dishes included.
In addition to the white rice, there was a cellophane noodle salad with spinach, carrots, red bell pepper, onions, black pepper, and a nice light sauce.  I really enjoyed the noodle salad – much more than the plain white rice.
There was a small side salad, which was better than at most other carts.  I'm not sure of the type of lettuce (arugula?), but it was definitely  a cut above iceberg, with a light, unobtrusive dressing.
They even threw in a small fried dumpling for nothing.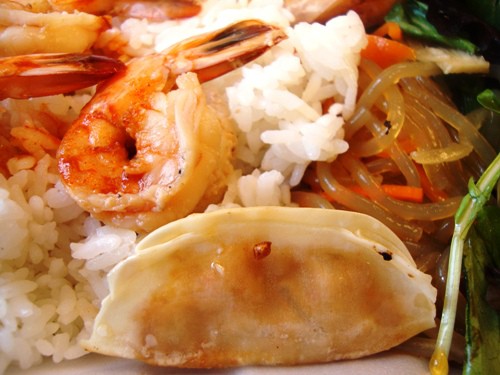 Today's Lunch gets an 8 out of 10.  The barbecued shrimp and noodle salad were a nice change of pace from street meat.  The value was ok – $8 is a little high for street food, but it was shrimp and there were plenty of them.
I will definitely be going back to Bapcha.  The egg wrap on the menu looked pretty good, and so many people got the dak kalbi (short rib) while I was waiting, I nearly changed my order.  After taking the picture below, I definitely have to go back soon for some barbecued meat.