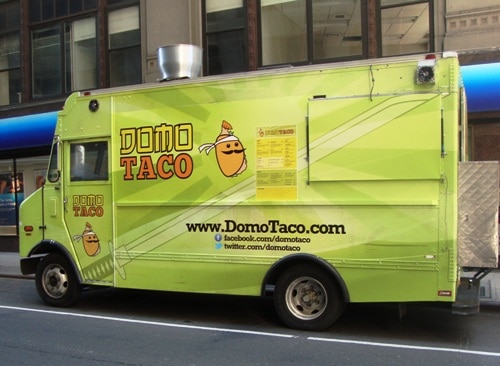 We saw that Domo Taco recently revamped their menu, with a bunch of new dishes and the removal of other dishes.
In addition to tacos and rice bowls, they now have Shrimp Quesadillas and burritos for main courses. On the protein front, kimchi falafel, an occasional special, was added to the regular menu, as was tempura shrimp.
For appetizers, they kept the nacho tots but got rid of the yakisoba. Domo Taco also added an over easy mulita, a 7-layer dip, and fried gyoza to the starters.
Wanting to try the new items, we ordered the gyoza appetizer for $4 and a shrimp quesadilla for $8.
After waiting for 25 minutes, we finally got our lunch! That's way too long.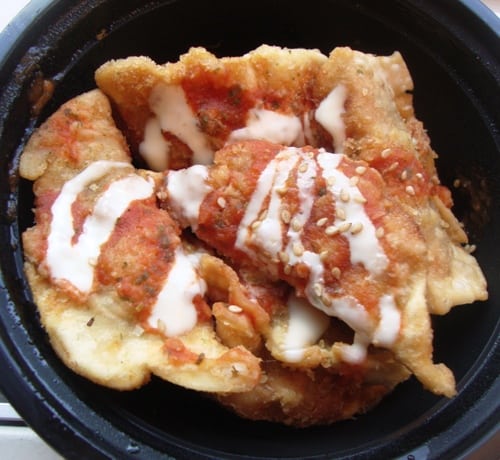 There were only about 10 people waiting for lunch when we ordered, and 25 minutes is too long to get through 11 orders. People only have an hour for lunch, often less, and these guys need to pick up the pace.
That said, the food was good. To start, there were 5 fried dumplings. The inside was filled with seasoned ground chicken, minced bamboo shoots and scallions. The gyoza were topped with crema, salsa and a few sesame seeds.
This qualifies as fusion cuisine, with the inside filling having Asian tastes, and the outside having Mexican flavors.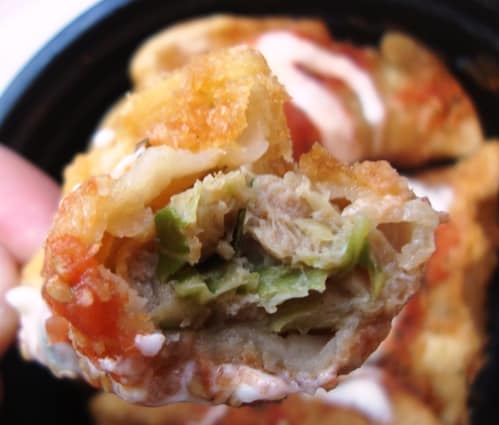 The Shrimp Quesadilla ended up being somewhat different because they did not have enough shrimp left to make my quesadilla. I said fish tempura would be fine to round out the dish.
Opening the container, there were 3 large triangles of Shrimp Quesadilla. On top were what appeared to be the same sauces as on the dumplings – crema, salsa and sesame seeds.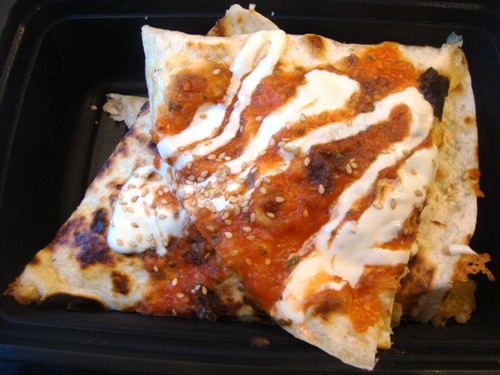 The tortillas were nicely grilled, with plenty of brown spots from where they were on the grill.
In between the two tortillas was either fish or shrimp tempura, and enough cheddar and jack cheese that the taste of the cheese came through fine.
The fish was good, but we enjoyed the shrimp even more. Guess that's why we ordered it in the first place. Next time we'll have to go a little earlier.
It's good seeing food trucks adjust and improve their menus over time. Domo Taco has definitely adjusted and improved their menu from their beginnings, a little over a year ago.
You can find Domo Tacos on twitter here or on our Mobile Munchies twitter feed. You can also see their new menu here.