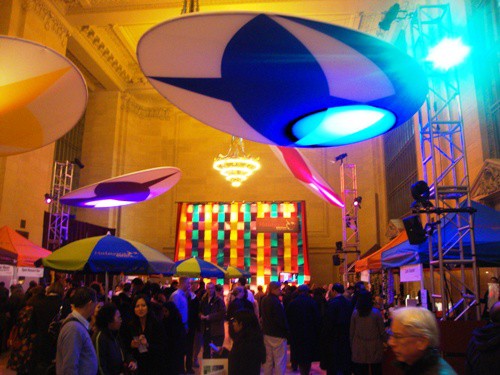 Malaysia Kitchen has been very active in bringing Malaysian food to NYC over the past few years.
They first came onto our radar in October 2010 when they had a Malaysia Kitchen food truck making the rounds of various neighborhoods for a couple of weeks.
In subsequent years, there have been several Malaysian markets, with a beautiful installation in Grand Central Station (above), a night market in Dumbo, and now, a Malaysian Winter Market this week in Bryant Park.
What makes Malaysian food interesting is that is combines Malay, Chinese, and Indian food traditions, with Indonesian, Thai, Portuguese and Middle Eastern influences. Malaysia has truly been a crossroads over time.
At Bryant Park's Fountain Terrace on Wed & Thurs (20-21) there will be colorful, heated tents reminiscent of the street markets of Kuala Lumpur and Penang.
Food will be on sale for $4 to $8. Participating restaurants include: Fatty Crab, Laut, Nyonya, Penang, New Malaysia, Bentara, and 'wichcraft.
Chef demonstrations and special performances by a Malaysian dance troupe will take place on an elevated stage both days.
If you can't make it for lunch, there will be dinner service too.
WHERE: Bryant Park's Fountain Terrace at 6th Avenue and 41st Street.
WHEN: Wednesday and Thursday, February 20–21, 2013
Lunch: 11:30am – 2:30pm (or until sold out)
Dinner: 5:30pm – 9:00pm (or until sold out)