We headed Kofta Platter? over to 47th St between Park & Madison recently looking for a specific vendor. When they weren't there, it was time for Plan B, or more accurately B&O.
The Bread & Olives truck was parked there, along with about 7 other food trucks, plus a few more were around the corner on Park Ave.
We've only tried a couple of things on the menu, and decided to check out the kofta platter for $9.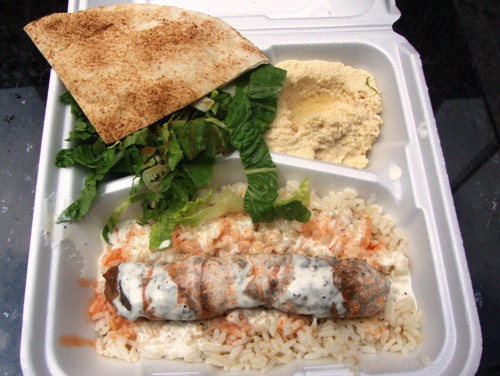 You never know exactly what a vendor's kofta platter will look like until you try it.
We've had kofta that was shaped like a hockey puck, at other places it was in the form of a baseball, and often it's long and skinny.
The kofta platter at Bread & Olives is made from ground beef, and it was shaped like a long, thick sausage. It was probably about 9″ long and cylindrical.
We had the dish topped with white sauce and hot sauce. This turned out to be a good idea, because the kofta did not have much seasoning. Most of the flavor came from ground beef, white sauce and hot sauce, not from herbs or spices.
The sauces also added flavor to the rice, which was very good texturally, but benefitted from the white and hot sauces.
The hummus at Bread & Olives has not been consistent. In our first visit, the hummus was rough and grainy, but in our second visit, the hummus was smooth and lemony.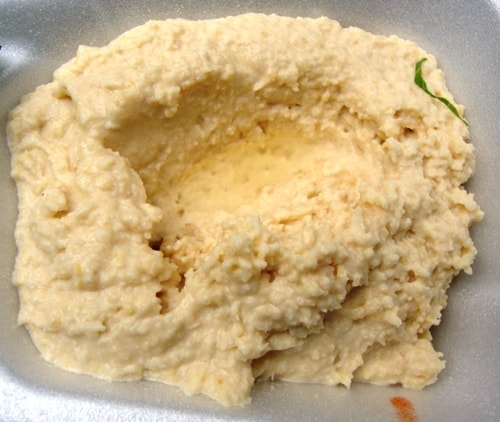 This visit, the hummus was somewhere in the middle. Better than the first visit, but not as good as the second – cold and smooth, but not lemony.
We can't find a website, twitter account or facebook page for Bread & Olives, but they seem to park in some of the regular food truck spots, like Park & 47th and 46th & 6th.
We wouldn't go out of our way for Bread & Olives, but if they are around, you should get a decent, filling, Middle Eastern lunch. They are a big step up from the standard halal cart, but have not quite reached the heights of Taïm or Toum.