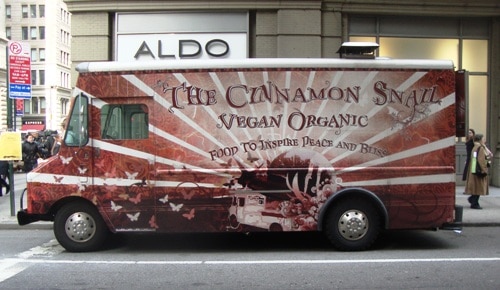 Our friends at The Cinnamon Snail are not ones to rest on their laurels.
Even though they won the People's Choice Award at the 2012 Vendy Awards, and are a Finalist for the 2013 Vendy Cup, The Cinnamon Snail is still overhauling their menu – 10 days before the Vendy Awards!
You would think they have enough things to worry about right now, without adding a bunch of new menu items. But these folks are pros.
Check out the new menu offerings after the jump.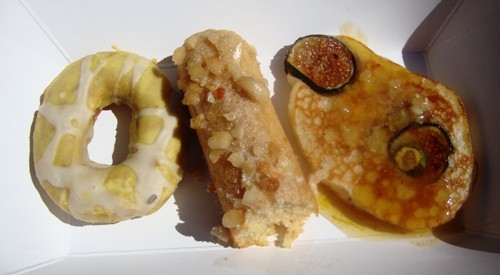 Some of the menu items below are new, and some are tweaks of currently existing dishes.
Fresh Fig Pancakes with pine nut butter, and chamomile blood orange syrup;
Lemon Caper Grilled Oyster Mushrooms with roasted chestnut cream, carmelized onions, and greens on an open faced garlic butter grilled tortilla;
The Ticket in Crimes Square – Sage and dulse walnuts, fresh figs, arugula, kale, French mustard dressing;
Blue Corn Hempseed Crusted Tempeh with tomatillo salsa verde, smoked chili coconut bacon, beer simmered onions and garlic, arugula, and chipotle mayo on grilled spelt bread;
Thanksgiving Sandoo – Porcini mushroom simmered seitan, rosemary parsnip bread pudding, marinated kale, orange cranberry relish, roasted garlic aioli on grilled baguette; and
Salted Caramel Dutch Cocoa Coffee.
Also returning to their pastry case will be:
The 2011 Vendy Award Winning Vanilla Bourbon Creme Brulee Donuts. (We had these at the 2011 Vendys, and they were sick!)
Fresh Cranberry Glazed Donuts
Peanut Butter Cheesecake Brownies
Unfortunately, there's only room on the truck for so many ingredients, so say goodbye to plum pancakes, basil pesto tofu and seitan al pastor for now. But you never know when these items may make an encore appearance.
You can see why The Cinnamon Snail is one of the best food trucks in NYC, if not the country. Vegan or not, who cares? Their food is as creative as it gets, and they pull it off!