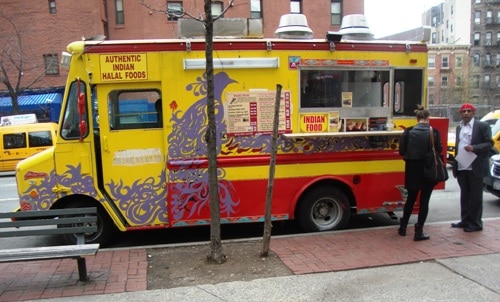 All the way back in October, we told you about the Desi Food Truck getting a permit from the NYC Parks Dept to operate at Soho Square, a small triangular park on the west side of 6th Ave at Spring St.
Things always take longer than expected, but yesterday was their 1st day back, so of course we had to stop by to welcome Al back and see how things were going.
The menu is still about the same with some minor changes. They now offer "lunch meals", with a kati roll, chicken tikka masala, dessert and a drink for $10. There is also a veggie meal for $9.
As we walked up, Al handed us a piece of puri bhaji. He did this with everyone coming up to the truck, not just us. It was a nice little snack while we waited for our lunch.
We ended up getting a chicken anda kati roll for $5.50. With Al being Al, we also got to try a funky new dessert called soan papdi that was pretty cool.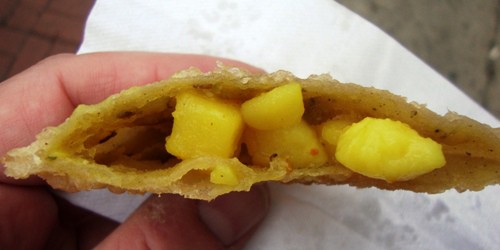 These NYC Parks Dept permits are great. Vendors bid on a location, pay the city a percentage of their receipts (with a guaranteed minimum), and they don't get hassled by the popo.
We're waiting for the Kelvin Slush Ice Cube to come out again soon, another NYC Parks Dept permit holder.
Getting back to the kati roll, Al now has his wife Sameena cooking in the truck, and the difference is noticeable. The spices and aromas were great, and the flavors "popped" even more than usual.
The chicken was grilled, juicy and tender, and it was rolled into chapati bread with red onion, a fried egg (anda), cilantro sauce and we got hot sauce. The hot sauce is medium spicy, but if you want it extra spicy, they will put in green chilies upon request.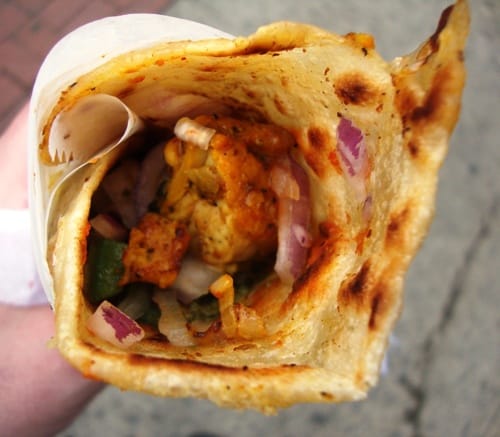 The chicken anda kati roll is Indian street food at its best. Delicious and easy to eat walking down the street.
As we were walking away, Al said we had to try their new dessert, soan papdi. It was a very interesting.
We unwrapped it and saw a small, light yellow food item. It was obvious how flaky and light it was from the weight. Breaking off a piece and popping it into our mouth, it was kind of flaky and almost dusty, but with an interesting taste.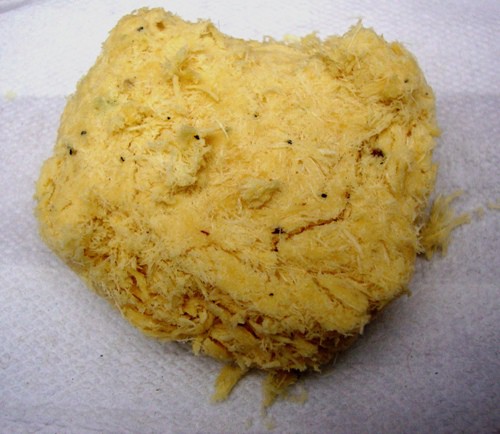 To our untrained palate, it tasted a little lemony, but Al said there was no lemon in it. Was it sesame? Nope. Al wouldn't tell us what was in the dessert, but we enjoyed it. A nice palate cleanser after the kati roll.
It's good having the Desi Food Truck back on the street. For now, this truck will be parked weekdays at Soho Square, but it's actually a friend's truck.
Al told us the original Desi Food Truck with Bollywood decor will be back in action making the rounds of their old haunts very soon. That means Midtown, the Upper West Side and more.
You can keep up to date on the Desi Food Truck on twitter here or on our Mobile Munchies twitter feed.