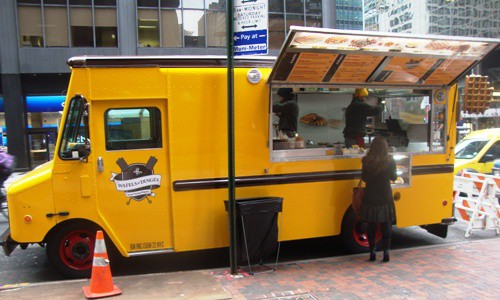 If you've been to Wafels & Dinges (and we know you have),  you know they have amazing wafels, but have you tried their Chili Corn Corne? (their version of Chili Con Carne).  We personally can attest to this after first eating one at the 2009 Vendy Awards, where they won Best Dessert.  We've had many, many more since then.
Did you know you can also get a delicious lunch at W&D?
For a long time, W&D has served pulled pork on a wafel, which makes a very good lunch, but they upped the ante by creating another lunch dish – Chili con Corne, a play on chili con carne.
Unlike the pulled pork, this is not served on one of their regular wafels.  The culinary wizards at W&D created a cornbread wafel on which to put the chili – hence chili con corne.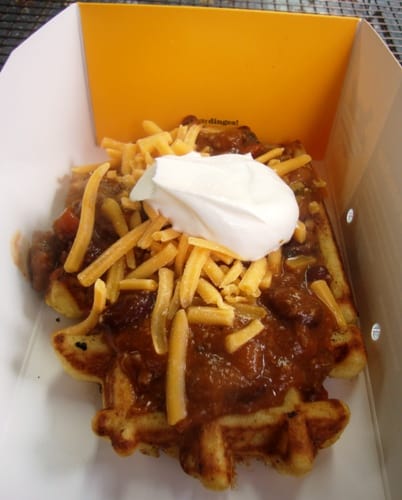 You can get chili con corne with either beef or vegetarian chili.  Both cost $7.  I'm a big carnivore, so I got the beef chili.
There were some tender beef chunks in the chili along with the beans, although I can always go for more meat.  There was a decent amount of cumin in the chili, and it was a little spicy too.  It was all topped with shredded cheddar cheese and sour cream.
What makes this dish really work is the cornbread wafel.  Cornbread and chili are a great pairing, and the chili would have clashed with one of their regular Brussels or Liege wafels, which would have been too sweet.
One thing you should know is the Chili con Corne is only available at the Wafels & Dinges truck.  The carts are not large enough to serve either of the savory wafels.  Don't worry, you can find the truck on twitter here or on our Mobile Munchies twitter feed here.
And if you want to know how to pronounce dinges (which means "stuff"), check out the video below, and listen to the young kid in the bike helmet.