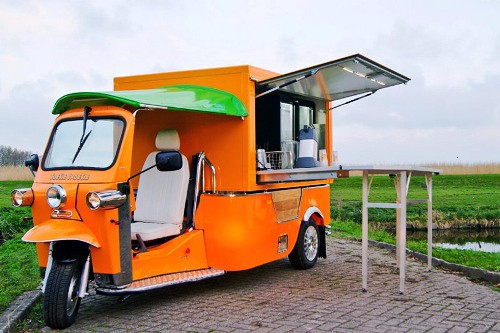 Last year I was having lunch with Stan Tankursley, owner of the Eat Here Now Now Eat Here food cart that was a Vendy Award Rookie Finalist in 2011. Stan told me about an idea he had for a new food truck.
Stan told me he wanted to be more mobile than a food cart, but didn't want to deal with getting investors for a food truck, which can easily run to $100K.
His idea was  to get a 3-wheeled tuk tuk and serve breakfast tacos, the dish he was known for, and doesn't require much space to make.
A Dutch company had the same idea.
The Dutch company Tuk Tuk factory has developed a fully electric rickshaw-style van for food mobile catering.
More common in India, Asia, and Africa than in Western countries, 'tuk tuks' are three-wheeled cars typically used as novelty taxis and for public transport, powered either by biking or fuel.  Tuk Tuk Factory is producing some of the first electric models of the vehicles, to which the 'vendo' has just been added as the first craft designed specifically for food service.
The 'e-tuk vendo' has a range of almost 40 miles per charge and is designed to be plugged in during stops, to power all systems (sink with water pumps, refrigerator, electrical outlets) and recharge.
The right side of the vehicle  opens to provide 3 cubic meters of retail space, with the ability to slide the side cover into place as a canopy top.  A built-in work table can be pulled out of the rear to provide a countertop.
The basic version of the 'e-tuk vendo' is priced at 24,000 euro, with an expected lead time of three to four months.  additional extensions to the vehicle include a solar roof, rain covers and other accessories.
Stan is out of the mobile food business for now, but how long do you think it will be before we see one of these babies in NYC?  Any takers?