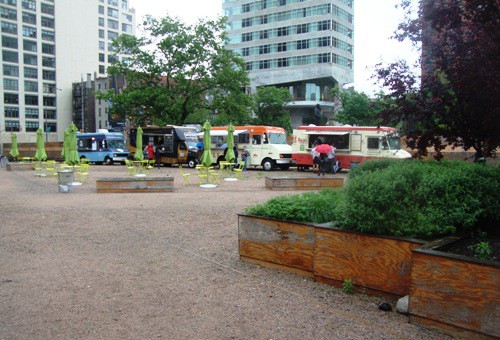 Yesterday morning we heard about a new food truck lot from some of the vendors scheduled to be there on it's opening day.  It's in Hudson Square, which I've also heard called West Soho, and even the South Village.
For some reason, Hudson Square doesn't seem to be catching on as a neighborhood name, but maybe this food truck lot will help the neighborhood name stick.
To find out more about the Hudson Square Food Truck Lot (officially called LMCC's LentSpace in Hudson Square), click through for who, what, where and when, but not how.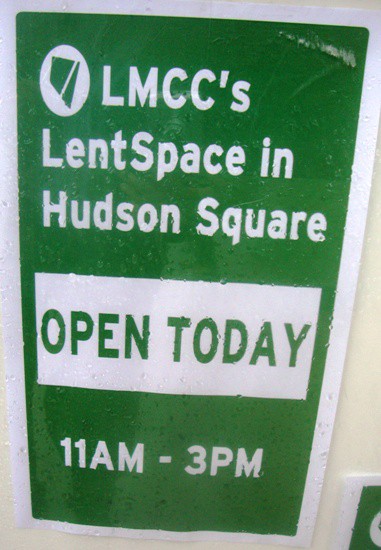 The Hudson Square Food Truck Lot is the newest site put together by the NYC Food Truck Association, and the land is actually owned by Trinity Church.
It's on a roughly square block bordered by Varick St, Canal St, 6th Ave and Grand St.  The Canal St station on the #1 train stops right there, and the Canal St station of the A, C, E is pretty close too.
The Hudson Square lot is scheduled to be open Tuesdays through Thursdays from 11am-3pm, and they expect to have 6 food trucks per day once everything is running smoothly.  No idea why it will be closed Monday and Friday, but that's the facts.
From what I was told, a lot of food trucks were interested in being on this lot, so a lottery was held by the NYC Food Truck Association to select 18 different vendors (6 per day, 3 days per week).
Today's vendors were Kimchi Taco Truck, Milk Truck, Mexico Blvd and Kelvin Slush.  We'll see over the next few days exactly who they are.
The lot is unpaved with a gravel floor.  It was raining pretty good yesterday, but there weren't and puddles or mud.
As for seating, there were about 6 round tables with umbrellas and chairs, which will be in high demand on hot, sunny days.  There were plenty of benches for sitting and eating, but there was no shade for those benches.
For some reason, a small covered stage was at one end of the lot, which gave me enough protection to eat outside in the rain.  I have no idea whether this stage will remain or be removed.  Maybe they'll have live music to go with lunch.  That would be pretty cool.
You can see who will be at the lot each day on their twitter feed here or our Mobile Munchies twitter feed.
Time will tell, but the Hudson Square Food Truck Lot looks like a winner.  Nice job David Weber and the NYC Food Truck Association.