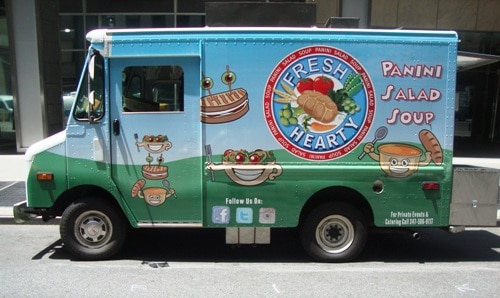 At the end of April, we checked out a new food truck called Fresh & Hearty. It wasn't one of the better lunches we've had, but the owner emailed us afterwards and asked us to give them another try. After all, it was within their first few days out.
Since we previously tried panini and a soup, this time we got a salad, Asian Chicken Salad for $7.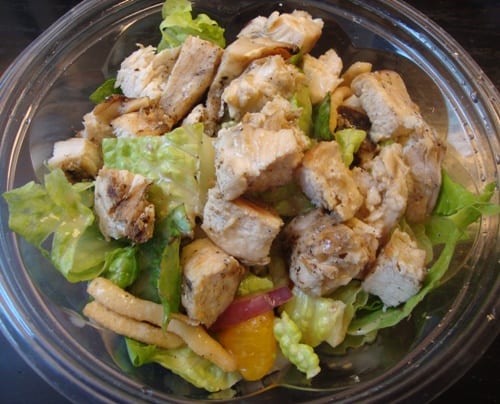 As far as the size goes, this was a decent amount for $7, with plenty of chicken and lettuce. The other fillings – Mandarin orange segments, carrots, celery, red onion and noodles – seemed sparse at first, but it turned out a bunch had fallen to the bottom of the salad. The last few bites were better than the first few bites.
The grilled chicken could have used a few less seconds on the grill, but not by much.
Our biggest complaint were the "crispy" noodles, which were mush, One of our favorite things in Asian chicken salad is the crunchy noodles. They should add the noodles at the same time as the dressing to keep them crisp.
There was also more brown on the lettuce than there should have been.
On the plus side, the sesame ginger salad dressing was tasty, and we were full until dinner.
Fresh & Hearty is trying, but the jury's still out. You won't find them on a list of the best food trucks in NYC, but with a few changes on their part, and the right lunch selection, you can do ok.
Fresh & Hearty can be found on twitter here and on our Mobile Munchies twitter feed.
Here's their panini menu, soup menu, and salad menu.