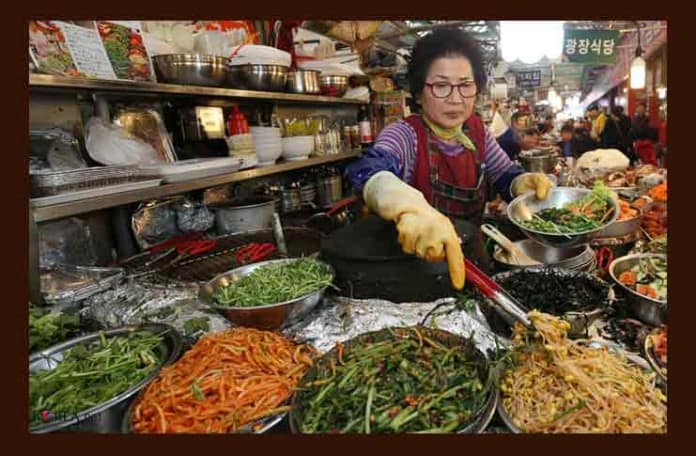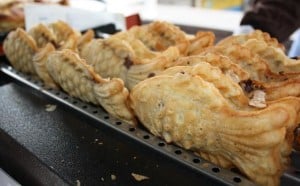 Street food is a big part of Korean culture, especially in cities like Seoul.  The variety is amazing, and can change according to season.  Fried and deep-fried items are always popular and include bungeoppang (pictured above), a snack made of pancake batter filled with sweet red beans. The batter is poured into a fish-shaped mold and cooked in a waffle-iron.  Deep-fried hot dogs and french fries (pictured below), deepfried stuffed peppers and fried potatoes on a stick are also popular.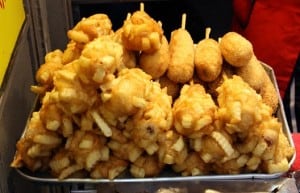 Then there's the food that's not as enticing to Western palates such as jokbal (pictured below), steamed pigs' feet cooked with a variety of sauces and spices. Bones are removed from the fully cooked jokbal, which is then served with fermented shrimp sauce. Koreans usually wrap the meat in lettuce to offset its greasiness.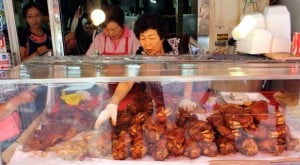 Kids love cups of bundaegi, which are roasted and boiled silkworm pupae.  Here's a picture below.  We're not kidding about the kids loving them.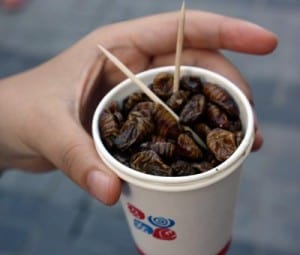 USA Today has a slideshow if you'd like to see more Seoul food on the street, including dried squid and octopus (popular at baseball stadiums) and blood sausage. [USA Today].