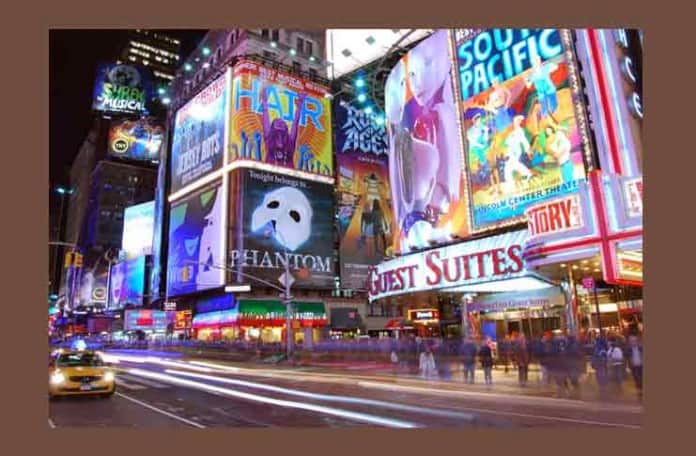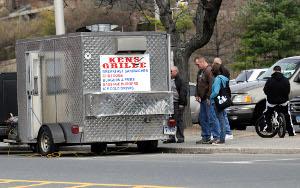 In Bristol, CT, the city's downtown restaurants, faced with declining sales in a tough economy, are begging City Hall to help them by ousting a growing number of food vending carts and trucks from North Main Street.
"It looks like Chinatown out there," said John Spaniotis, an owner of Center Restaurant and Pizza. "They take my business every day." (Is that supposed to be an insult you racist a-hole?  It's not, because we love Chinatown.)
"It's just a no-brainer," said Roberta Costanti, a co-owner of Blondie's Grill and Patio. She told city leaders this week "to get rid of these vendors."
But the vendors, not surprisingly, have a different take on what's happening.
"There's money out there for everybody," said Myra Almobobar of Bristol, who owns the El Sabor Latino Spanish Food truck parked across from City Hall.
Ken Meehan, who has run Ken's Grille out of a cart across from the post office for 11 years no matter what the weather, said the notion that government might force him to quit "is very scary to me. I always heard competition is good.  It keeps you honest," he said.
The city's Ordinance Committee, which consists of Councilors Kevin McCauley, Cliff Block and David Mills, is on the front lines of the food fight.  "We want at least to even the playing field," Mills said.  McCauley, who chairs the ordinance panel, said officials will look into their options for lending a hand to the restaurant owners. But, he said, the vendors "are trying to make a living themselves."
Officials said they may be able to regulate where the vendors can park, perhaps pushing them further away from storefront establishments. Vendors pay a $100 annual license fee. [Bristol Press]
Judging from the nearly 150 comments on the article (there are 150 people in Bristol?), most are in favor of keeping the food carts.  In our opinion, competition raises everyone's game, and the biggest winners are the customers.