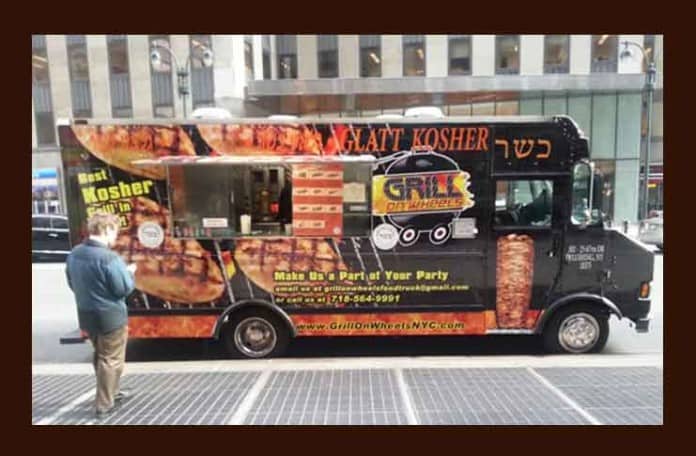 Last summer, a new food truck started showing up in the usual food truck spots called Grill On Wheels. A lot of food trucks serve grilled meats, but this one is kosher. At this point, there are a few kosher food trucks.
Most of the menu is grilled chicken or roasted shawarma meat, which is a combination of chicken and lamb here. They also serve hamburgers, but obviously no cheeseburgers or milk shakes.
We ordered the Crazy Chicken for $12. This is on the high side for a chicken sandwich, but there was a lot of stuff on it.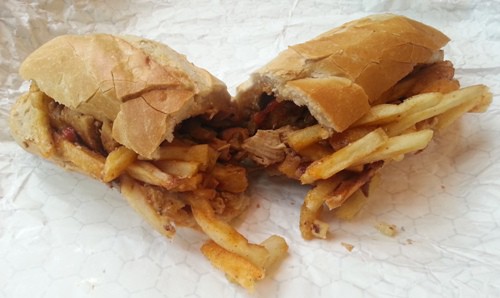 True to its name, the grill was going full blast, with flames shooting high into the air at times.
In addition to pieces of grilled chicken, the baguette included red and green peppers and onions. The twist is they also included hummus, french fries and hot sauce!
You don't need a side order of fries because there were plenty on the sandwich.
The hummus added some creaminess, and the hot sauce kicked up the heat nicely, but not too much.
This was a tasty sandwich, with the bell peppers, onions and hot sauce taking the lead roles.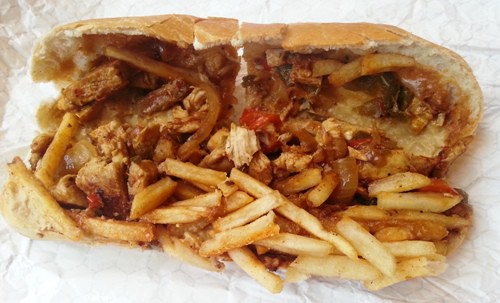 The only problem we have with kosher food is there's no cheese allowed on the sandwich. We love cheese on our sandwiches, but alas, you can't change thousands of years of history and religion.
You can find Grill On Wheels on Twitter here or on our Mobile Munchies Twitter feed. For even more information, their Facebook is here, and their website is here.
The food is a little pricey, but good.